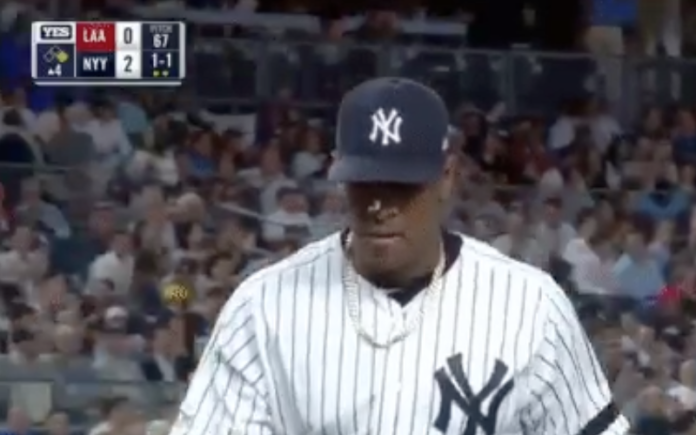 Welcome back Luis Severino. Sevy's long-anticipated return was vs. the Halos (9/17/19), and could not have gone much better.
Severino, making his first start since Oct. 2018,  threw 67 pitches and held the LA Angels to 2 hits over 4 scoreless
Line : 4.0 INN , 2H , 0R , 2BB , 4K
Severino started off the first batter of the game, Brian Goodwin, with a a 93 mph FB and seemed to be holding back a bit during the 12 pitch AB that ended in a walk. But after that his velocity increased. He regularly hit mid-90's +  V-lo.
1st Inn: 96.5 avg velo / 97.4 max
2nd Inn: 96.7 / 98.3 max
3rd Inn: 95.7 / 97.1 max
4th Inn: 97.8 / 98.8 max
What I was watching closely for was his off-speed pitches. Severino did throw  a number of Sliders and Change-ups.
Many of the Sliders were ordinary looking, and did not have that wipe-out downward tilt/bite, but they did enough to get the job done.
The Change-up, had good movement away from lefty batters. It did not have the sinking action to go along with the fade , which makes that pitch un-hittable , but again it was good enough to get outs.
All-in-all it was a great night. The Yankees won the ballgame 8-0. It was their 99th win of the season. Gleyber Torres hit a towering 3R Homer, his 38th of the year. But the really big news is Luis Severino has said hello to the 2019 season. There is time to make two more starts before the end of the regular season. And barring any setbacks, just in time to add a much needed boost to the Yankees Postseason pitching staff !!