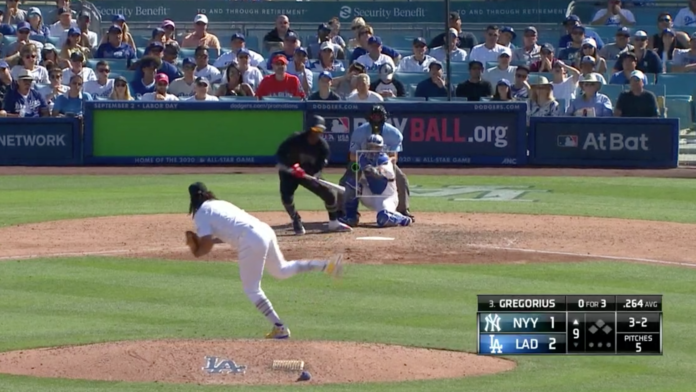 Didi Gregorius leading off the 9th inning (8/24/19) against closer Kenley Jansen, looked towards the 3rd base area and saw nothing but beautiful So-Cal green grass.
With the LA Dodgers using an extreme shift on him and leaving the left side of the infield unguarded with a 3-1 count in the top of the ninth, Gregorius tried a PUSH bunt down the third base line. It went foul.
Then with a 3-2 count, Gregorius did it again and the bunt went foul for the first out of the inning. It was another PUSH-type bunt, where he ran his hands up the bat and kind-of chopped it towards the 3rd base line.
Quotes from after the game :
Didi Gregorius –
"They are moving over 3-1, so why not? If I get on base right there, it's a base hit," Gregorius said after the Yankees' 2-1 loss to the Dodgers. "Even with two strikes, try and get a runner in scoring position. If the first one was fair, it probably would have been a double, too.
"But, I try to get on base. I am a team player," Gregorius said. "Anyway I can, I try to get on. If they question that, then that's their problem."
Aaron Boone –
"I had no issue with it. I would never tell someone in that spot, but I thought it was a good play. He almost had a leadoff double. Your chances of getting on base there, with two strikes anyway you're down a little bit," Boone said. "With Didi feeling like he can execute it, I thought he was actually very close to executing it. It was really close to being a leadoff double with where they were playing and how firm he did.
"It's a weird way to end (the at-bat) and I know that's a question but I think when you really break down the play I don't think it's a bad thought if you're confident in your ability to do it."
The result was one-out, no-one-on in the 9th inning of one of the wildest , most controversial endings you ever will see. There were runners at first and second with one out when Gio Urshela hit a grounder to third baseman Justin Turner, who looked to start a game-ending double play. Second baseman Max Muncy caught Turner's throw, but then got wiped out by Brett Gardner's hard-but-clean slide for an apparent forceout. When the Yanks asked the play to be reviewed, Gardner was called safe at 2nd, but, Gleyber Torres who scored from 3rd base was sent back because time was called with by the HP umpire because Muncy was on the ground & Jansen was requesting time. With 1 out and the bases loaded, Jansen struck-out Mike Tauchman and Gary Sanchez to end the game.
Wild ending indeed. The final line-score on the game:
NY Yankees 1R, 5H, 0E
LA Dodgers 2R, 6H, 0E
Looking back at Didi's AB and considering the context of the situation, here is my take :
I love Didi as a player, and I love the idea of bunting against the shift. With a 3-1 count… fine. With 2 strikes, I find it to be a bit too-risky, but .. ok. My real issue is I have a "big picture" problem with the play. The Yankees don't practice bunting as a team. I'm sure they make a token gesture during spring training, but certainly no significant attention is given to bunting, and therefore they are not good at executing a bunt when the situation arises. We all remember a few years back when Brian Cashman was quoted as saying .. "We're not the Bronx Bunters". I have previously written not one but two columns this year pointing out that Brett Gardner is not a good bunter.
With that being said, let me give some analysis of Didi's bunt attempts. With a 3-1 count he choked up and tried to chop the ball down the 3rd base line. If it works .. he has a double. Ok, but the mistake is he's trying to PUSH the ball right down the line, when there is no need to push it right down the line & risk it rolling foul (which it did).
Then with two strikes, I am even more critical of the attempt at executing the bunt. First off – the type of bunt should be different. It should no longer be a PUSH-type bunt, where you are choking-up and chopping at the ball. The mechanics should be … square your body around by pivoting slightly with your feet, run your hands up but separate your hands, get your bat parallel with the ground, don't push your bat at the ball, keep it still, almost like your bat is an imaginary glove and you are trying to "catch" the pitch. What I just described is a true sacrifice-type style of bunting. The NL pitchers do it all the time (with corner infielders charging-in). Then my final critical point regarding the mechanics / technique is .. aim your bunt towards the grass more, don't aim down the 3rd base line. If the ball rolls foul you are out (which is what happened) . There is no need for this. There is no defensive 3rd baseman because of the extreme shift and you have a right-handed pitcher who falls-off the mound towards 1B when he follows-through on his delivery of the pitch.
Check out the picture below of the 2 strike bunt: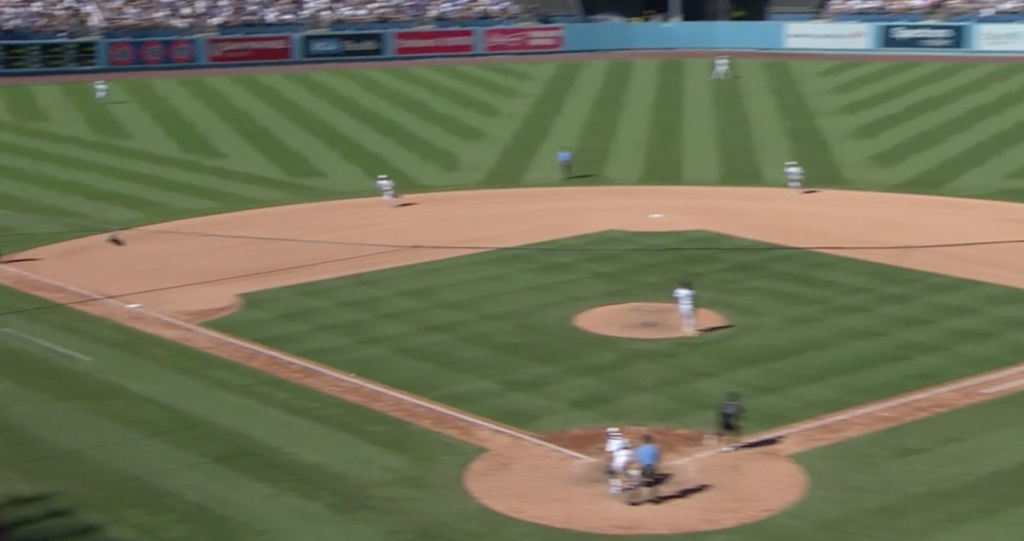 I know the way I just broke-down the play was micro-analysis, but hey, someone had to do it. No one broke it down like that during the YES play-by-play , postgame, nor player or manager interviews. I also checked the Post, Daily News, and ESPN on-line .. no such analysis.
Here's the bottom line : in my opinion … when you are playing another good team, like the Dodgers (best record in MLB .. Yankees 2nd best) many times the score is close, and little things make the difference. There is a chance that these two teams can square-off in this year's World Series.
Yes little things like squaring-off when bunting can have a big result. They can even be the margin of winning or losing a World Series, and that's not PUSHING it.
As always,
GO NYY !!