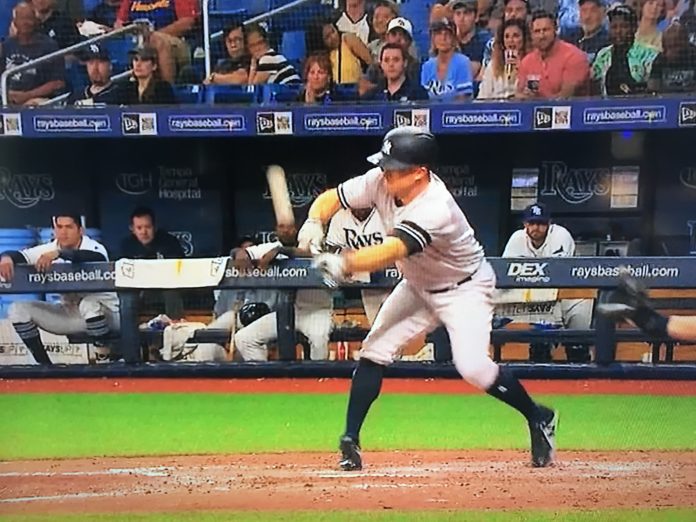 On May 12th I am dedicating this entire column to one issue, the inability of Brett Gardner to lay down a bunt (vs. the Rays). Back on April 12th I dedicated an entire column to one issue, the inability of Brett Gardner being able to lay down a bunt (vs the Astros). Since May 12th is also Yogi Berra's date of birth, I will borrow one of his famous sayings which applies perfectly … It's Deja Vu all over again.
Back on April 9th ..
The Yankees had runners on first and second with no outs in the third when Brett Gardner dropped down a bunt that barely made it out of the batter's box. Apparently thinking it was foul, Gardner stopped after just a few steps toward first base and the Astros turned a double play.
"I obviously thought it was foul," Gardner said. "He said he picked it up when it was right on top of the line and it didn't go foul. I obviously should've run to first base, and basically gave them two outs right there. I thought it was a big turning point in the game, and it was a big mistake on my part."
Fast forward to May 10th ..
Again on the road, this time at the Trop in TB, Gardner batted with a man on 1st, no one out in the 9th inning. The Yankees were clinging to a 4-3 lead, after the two pitchers with the most wins in the A.L. German & Glasnow (left with forearm soreness) battled. The Yanks would have loved to add an insurance run before handing the ball to Chapman in the bottom of the 9th. Gardner came to the plate batting .206 (0-3 in the game). He bunted the ball straight up in the air, and initially didn't run. So .. again, Brett was asked to bunt. Again he could not execute a simple bunt. Again he does not run out of the box. This time the catcher caught the ball before it hit the ground not far in front of the plate.
Kenny Singleton on YES during the broadcast said – " Not a good attempt by Brett Gardner .. he's gotta run though."
Michael Kay then added – "Brett is now 3 for his last 27"
Now go back and read my April column again, and see if you agree with my BIG-picture point about Brett Gardner and his lack of SMALL-ball skills.