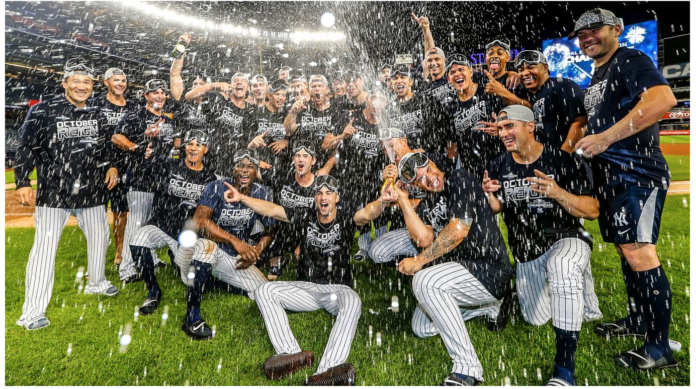 Today (9/29/19) we close the book on the 2019 regular season. The Yankees finished with a superb 103-59 record, which is their best since 2009. The Yanks were on a mission to win the AL East going back to spring training. They did just that, finishing 7 games ahead of TB (99-66) and 19 games in front of their arch-rivals, the Boston Red Sox ( 84-78). By winning the division, they avoided having to play in a do-or-die WC game. The 103 wins ranked the Yankees 3rd best in all of baseball behind Houston – 107 wins and LAD with 106 wins.
You can't say enough about the job that manager Aaron Boone did this season. The injuries started during spring training (Luis Severino) and continued … ALL SEASON , right up until game 162 when Gio Urshela rolled his ankle. Never was the mantra "next-man-up" tested more that the 2019 Yankees, yet through it all, Boone and the Bombers proved to live-up to their self-given nickname .. "Savages".
The Bombers scored more runs than any team in MLB with 943 (most by any team since 2007 Yankees). They obliterated the all-time record they set last season for Home Runs (267) with an amazing 306 HRs. Even more amazing is that 306 Homers didn't rank them #1 in that category. Minnesota finished with 307.  HOU 288 & LAD 279 Home Runs also eclipsed last years record.
Now Aaron Boone, who I believe deserves AL Mgr-of-the-year honors, must turn his attention to October. With major input  from Brian Cashman,  Boone and the Yankees will be deciding on a postseason roster (not an easy task) by Thursday Oct. 3rd .. before Game 1 of the ALDS vs the Minn. Twins on Friday Oct.4th at Yankee Stadium
Yankee history and legacy tell us that now the REAL season starts.
Four days ago, (before the Texas series) with the regular season winding-down, I took the opportunity to do a quick year-in-review on my tv show. During the segment I gave much deserved kudos to Aaron Boone. I did however have an issue with comments he made in an early September presser, basically stating that Batting Average is .. irrelevant. He additionally made comments downplaying the importance of small-ball type play, regardless of circumstance. Even in the season of the "juiced baseball" where home runs flew out at a ridiculous rate, I believe it is a mistake to overlook the fundamentals of the game. Simply stated, when it comes to postseason .. pitching, fielding, holding runners on, timely hitting, bunting, base running, and ALL fundamentals are relevant . I will drill-down on these issues and post a separate column on the topic.
Most importantly … I had the pleasure of having a select-few fellow die-hard Yankee fans call-into the show. I asked them to make a postseason prediction and also share their all-time favorite postseason memories. I LOVE talking to savvy die-hards. The segment was an absolute joy for me, and I can't thank them enough for participating.
Check it out …