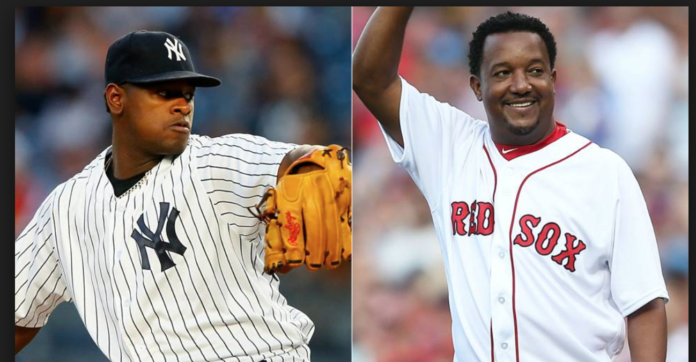 The Yankees and the Red Sox, the teams with the two best records in baseball, split the first two games of a big three games series (6/29,6/30,7/1) in the Bronx. The Yanks took Game one 8-1 thanks to CC Sabathia W (5-3) throwing a 7 inning , 6H, 1R, gem, and 4 HRs by the Bombers turned it into a blowout win. Andujar went deep along with Judge, and Bird broke out of his slump with two long balls. Eduardo Rodriguez took the L (9-3).
Game two was also a blowout, but this time it was all Boston. Chris Sale totally dominated the Yankees allowing only 1 hit over 7 shutout innings, striking out 11. Sale (W , 8-4) now has a career 1.73 ERA vs. the Yankees, best among pitchers with at least 10 starts since 1920. Sonny Gray is the polar opposite. Gray allowed 6 Runs in 2.1 innings to take the loss (5-6), and dropped to 0-4 with a 9.35 ERA since coming to the Yankees last year. Sonny Gray has had some good games for the Yanks, mostly when pitching on the road, but has been a disaster when pitching in the Bronx, and when pitching vs. the Red Sox. Big problem, and the Yankee fans Boo'd him off the field in the 3rd inning of what turned out to be an 11-0 embarrassment.
Sunday Night Baseball will host the Rubber match. Normally one would say there is no such thing as a big game in June/July, but this is different. The pitching match-up features Luis Severino and David Price. Price has struggled against the Yankees since signing with Boston in 2016. In 8 starts he has a 7.42 ERA , and 1.76 WHIP, while against all other teams Price has a 3.35 ERA , 1.13 WHIP. Severino is having a Cy Young type season so far, as he leads all mlb pitchers with 12 wins. His 12-2 record goes with a 2.10 ERA, and 0.96 WHIP. However Sevy was hit hard back in April at Fenway Park when he gave up 8H, and 5 Runs in only 5 innings. Severino has the highest average velocity Fastball in the majors, and along with his Slider on most nights is enough to dominate a lineup, but against the Red Sox, he needs to mix in his Change-up, and that is where I am concerned. Severino abandoned his c/u in his last 2 starts vs. Seattle & Phila. both wins, but if that trend continues and he abandons that third pitch, the league will figure it out. In fact I'm sure the Red Sox are aware of the fact that He has gotten away for his c/u recently. Anyone who follows my writing knows how important I feel it is for Sevy to throw his c/u. And it must be quality c/u's that have mid-80mph v-lo, thrown down in the zone with late sink and fade movement that goes the opposites direction of his slider. Recently when he has thrown the change, it has been up in the zone, straight and too high velocity (89-90 mph). Hopefully Severino was watching Chris Sale last night. Sale had high 90's – 100 mph velocity last night but threw his breaking ball and Change-up at almost equal consistency.He threw 38% FB, 31% Breaking-balls, and 31% Change-up. Not only was he mixing his pitches but the differential in velocity was outstanding. Ranging from a 78 mph off-speed pitch to a 100 mph FB. That is a 22 mph differential. If Severino goes FB/SL only the differential of those two pitches is only 8-10 mph. Ironically ex-Red Sox great Pedro Martinez helped Severino with his mechanics before  the 2017 season. Pedro had one of the best Change-ups in MLB history. Working with Pedro was a big part of Severino turning things around after starting the 2016 season with an 0-8 record and 8.50 ERA as a starter. One more point about the importance of the Change-up for Severino, in the April 10th game at Fenway that Severino gave up 5 runs in 5 innings, he did not throw his change-up, but in the May 8th game vs. the Red Sox at Yankee Stadium, Sevy threw his change up a lot, and went a solid 6 innings allowing 6 H, 2 ER, 0BB / 11K. That is how important the change-up is, especially against a good hitting team like Boston. But again, it's not just the quantity of Change-ups, it's the quality. He must throw the pitch will lower velocity, down in the zone, with late movement.
The Red Sox have the best record in baseball, 56-28. The Yankees are right behind at 53-27. The Yanks had the best record after Fridays 8-1 win. That is how close and evenly matched the two teams are. Tonights game will be fascinating and one starting pitcher can send a strong message. Let's hope it is Luis Severino.
As always,
Go NYY !!