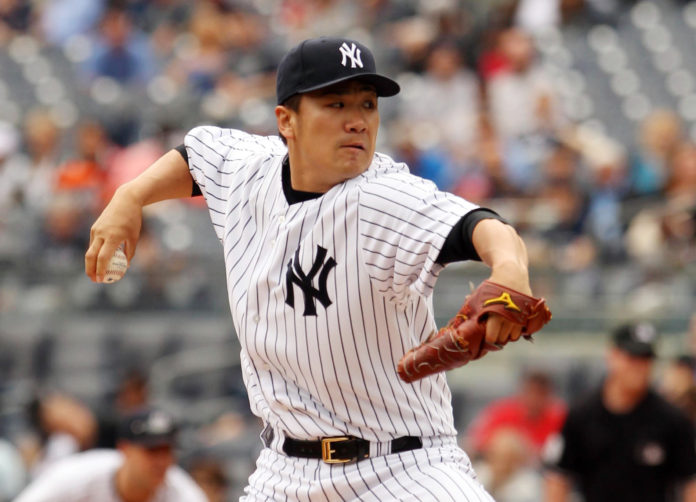 Masahiro Tanaka is by far my favorite player
on the N.Y. Yankees.
I was elated but not surprised to see him dominate
the Seattle Mariners yesterday in his first
outing after being on the DL since April 29th.
He made it through 7 innings throwing only 78 pitches,
walking no one and striking out 9.
Tanaka worked quickly allowing only 3 hits, one run,
and finished his day with a 96 mph strike out, putting
an exclamation point on a brilliant performance.
When you watch Tanaka perform you realize that he is the
young Ace (only 26 years old) the Yankees envisioned
when they signed him to a 7 year / $155M contract last year.
Besides his un-hittable repertoire of pitches and a gold
glove fielding ability, he has a flair for the dramatic.
The bigger the stage the better he pitches.
He has grit,and determination, and focus, and intelligence,
and pride, and ….
oh yeah a partially torn ulnar collateral ligament in his right elbow.
A tear that can not heal. A tear that can't get better but absolutely can get worse.
Yesterday shows that with Tanaka / Pineda at the top of the rotation,
and Betances / Miller at the back of the bull pen, the Yankees
could not only be a legitimate contender for the
division in the Al East, but a very dangerous
post season threat because two dominant Starters backed up by a tandem
in the pen that reduce a game to a 7 (sometimes 6) inning affair
is a big part of the formula to win a championship.
June ..July …August…September….October (hopefully)
Which leads to my question …
Can the Yankees realistically expect that Masahiro Tanaka
will be able to take the ball every 5 days for the next 5 months ??
Will he be able to pitch with a torn UCL without another
set back all the way through October ??
He was shut down last season with a forearm strain in July
and this year was shut down earlier (in April) with a forearm strain, but this time he also
had wrist tendonitis which in my opinion was due to him compensating for his elbow
injury.
Unfortunately I don't think he will be able to take the ball
every 5 days for the next 5 months.
I can picture the flair ups happening more frequently.
All we can do as Yankee fans is enjoy and appreciate his
brilliance when he is on the mound
and hope Tanaka is healthy enough to take the ball every 5 days …
TANAKonWOOD !!!