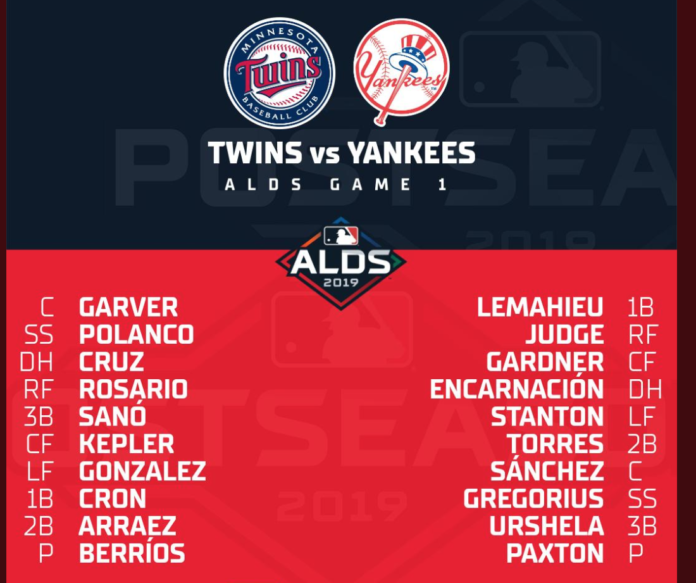 The Yankees have faced the Twins 5 times in the postseason and have moved on to the next round all 5 times.
THE JOY OF SIX
6 for 6 would be great, as the Yankees host the Twins starting tonight (10/4/19) in a 2019 ALDS showdown.
In 15 playoff games vs. Minnesota since 2003, the Yankees are … 13-2.
But, it won't be easy. This is not your father's Minnesota Twins who were out-homered
21-10 over that 15 game span. In fact this series will be a battle of Home Run titans, as the Twins led the league with a staggering 307 HRs, and the Bombers finished right behind  in 2nd place with 306 HRs. Keep in mind the Yanks set the all-time HR record just last year with 267, and now only one year later, both teams obliterated that mark. Can you say .. "juiced baseball" ?
The Yankees announced their ALDS Roster, and here is what's significant :
Bench : Romine, Maybin, Wade and .. Voit ( not Ford )
The Twins have the best record in the league vs.  LHP
I feel the First inning of the First game will be huge. Here's why – LHP James Paxton will get the ball in Game 1 as he makes his First career postseason start. During the First half of the season he struggled during the First inning. Through July Paxton allowed 22 earned runs in the 18 First innings that he pitched. An 11.00 ERA with 10 homers allowed. The Twins finished First in the league vs. lefty starters. Cruz, Garver, Cron & Sano all RHB who had better than 1.000 OPS vs. LHP. On the other hand , the Yankees are going with "Big Maple" for a good reason. He was one of the hottest pitchers in baseball down the stretch of the season (August & September).  In his last 11 starts : 10-0 , 2.51 ERA , 20 BB/69 K , 61.0 innings. The key to the Paxton turn-around was mainly due to the fact that he started throwing his spiked knuckle-curve ball much more. Something I wrote about in early August.
http://stepuptothemike.com/2019/08/breaking-good/
If Paxton pitches a clean 1-2-3 inning, I can definitely picture him settling-in nicely. Hopefully he introduces / establishes  his knuckle-curve early. But if the big lefty gets hit hard in the 1st, I could see the pressure of his his first postseason start get to him, to the point where the Yankees would have to out-slug the Twins to victory.
All Yankee starters need to keep the games close & let their
dominant Bullpen be the difference. We know both teams can mash.
I'm pumped for this series ..
The Yanks took the 6 game season series from the Twins 4-2 , and have home field advantage in this series where they have dominated all year long.
Prediction :
YANKS IN 4 !!
As always,
GO NYY !!