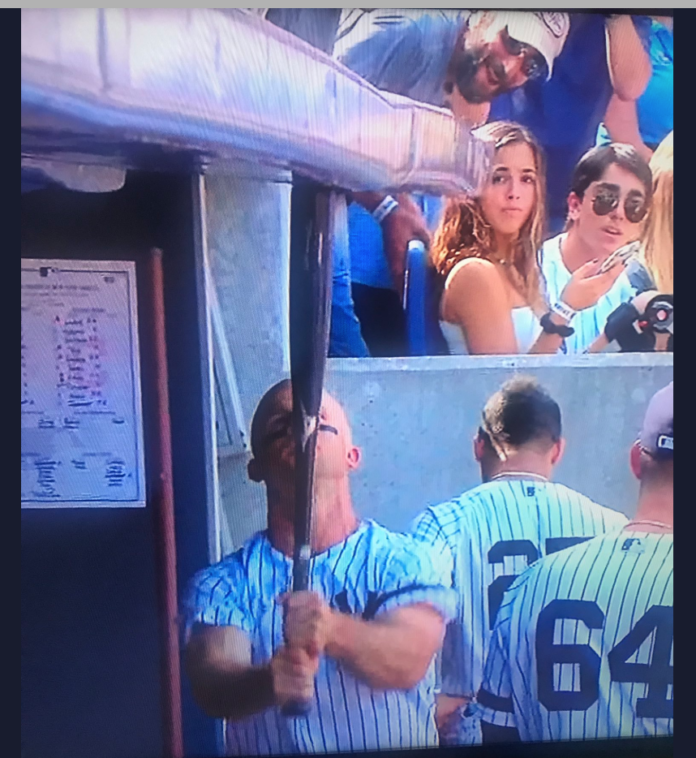 Here is what I wrote on twitter real-time
RAISE THE ROOF :
I love the passion and gritty-ness of Brett Gardner but the banging on the dugout roof has always been an issue with the umpires & it doesn't help. Now we're being targeted. Seems like the #Yankees are getting screwed more now.
I commented back to a follower on twitter who agreed with me ..

Mike Pinto@MikePintoNYY·Aug 17Right! Just as you said/intensity is good but not when he gets ejected. Umps (fairly or unfairly) have targeted the roof-banging with the bat. He has to stop. Gardner said he was "firing-up the team". Reality is #Yankees had 6-4 lead before he got tossed Result was-Estrada in RF
Brett Gardner was tossed out of a game .. again. This time on Saturday (8/17) at Yankee Stadium vs. the Indians. Gardner, Boone and Sabathia were all ejected in the bottom of the 6th inning of a 6-5 victory over Cleveland. After the game, the dramatic win was a side-bar. Most of the attention centered on the argument between the Yankee dugout and the umpires. What started as jawing back-and-forth between Aaron Boone and rookie home plate umpire Ben May after a blown called 3rd strike to Cameron Maybin, went beyond Boone getting thrown out when 1st base umpire Phil Cuzzi tossed Gardy for .. banging his bat on the roof of the Yankee dugout. Gardner had to be held back as he attempted to go after Cuzzi.
"I guess I was ejected for making too much noise. I wasn't happy about it," Gardner said after the game "Almost on a daily basis I do things to get our guys fired up. I felt it was a big point in the game against a really good opponent. The last thing I'm trying to do is leave that game early."
Gardner added that he has a .. "target on my back".
I love the gritty hard-nosed style Brett Gardner displays on the field. He's a gamer. He plays with incredible intensity . But in this case as I mention real-time … HE MUST STOP. He's right, he is being targeted. He knew it going into the game yet he did it anyway. He wasn't firing up the team. The Yankees had just broken a 4-4 tie and took a 6-4 lead. Aaron Boone defended the team by getting thrown-out, there was no need for Gardner's roof-banging. For one thing, someone can get hurt in the dugout by his antics … and on the field the Yankees had to play the rest of the game with Thairo Estrada in the outfield because of his ejection .