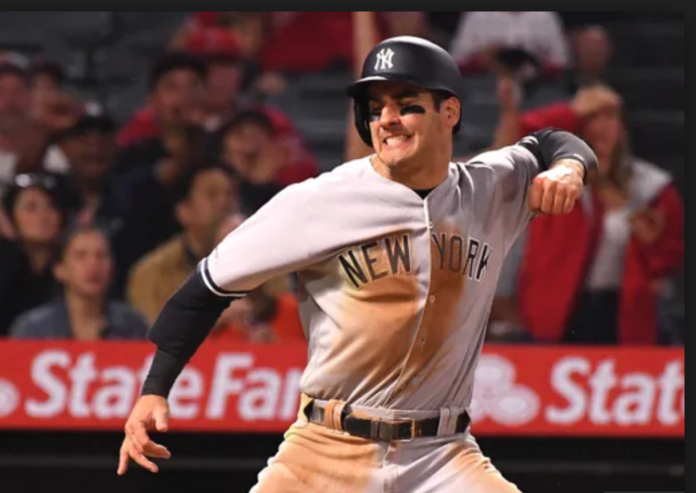 Role players have the Yankees on a .. Roll.
Nearly every starting position player is on the IL, and yet the Yankees have won 6 of their last 7 games, 8 of 10. How is this possible you ask? Well, for one thing the back-ups have stepped-up.
Tyler Wade and Mike Tauchman have added speed and athleticism. In the recent series against the Angels, the Yanks were 10 for 10 in stolen bases. When was the last time they did that ??
Gio Urshela and Austin Romine are better defensively than the starters they replaced.
Clint Frazier made the most of his opportunity to play, by knocking in 17 RBIs in 18 games!
Are the Yankees better off long-term with the back-ups rather than the starters when they are healthy?
No …. but there are interesting decisions that will arise when starters return. Let's take a look at a few:
When Miguel Andujar returns, should he go back to playing 3B ?
In my opinion **No.
I would have Andujar DH for a while so that his shoulder can fully heal, and just as importantly allow Urshela and his superior glove to play 3B. Let's see how Gio can hit when he plays every day for an extended time.
When Troy Tulowitzki returns, should he go back to playing SS ?
In my opinion **No.
The infield defense has solidified with Gleyber Torres at SS along with LeMahieu at 2B & Urshela at 3B. Tulowitzki can not stay healthy, and should assume a role as back up.
Some decisions will be easy. When Stanton comes back (LF), Mike Tauchman will be a likely candidate to be sent down . Other decisions will become harder. Names like Frazier & Wade .. if one had to be sent down.
Let me say this about Clint Frazier … I have always respected his "legendary bat speed". There is no doubt in my mind that his offensive upside potential is enormous. But having said that, I have major concerns .. #1) I don't believe Clint is, or ever will be a good fielder. He just doesn't have the instincts to immediately judge a ball off the bat imo. That gets him in trouble .. getting late jumps, and bad reads. He dives for balls when he shouldn't, etc. He does have a strong arm, but that is not enough to make him an all-around good defensive player. #2) My other major concern is that Frazier will never be able to stay healthy… which ties into concern #1. Bad instincts in the field AND running the bases will continue to cause the injuries to pile-up. From concussions, to rolled-ankles, I feel it will always be something, and he will never be able to stay on the field for an entire season.
Getting back to the fact that the Yankees have won 8 of their last 10 games, they are in 2nd place in the AL East, only 2 games behind 1st place TB Rays, despite the fact that … 13 players are on the IL.It doesn't hurt that Yankee starters have a 2.59 ERA in the last 10 games, lead by James Paxton who in his last two games K'd 24 batters and allowed 0 Runs (1st Yankee ever). In fact, the only lefties ever to have back to back games of 12 K's & 0 Runs are .. Koufax, R Johnson, Sale, Kershaw & now Paxton !!
You can say that part of the reason the Yankees have an above .500 record at 14-11, is due to their soft schedule to start the season. This is absolutely true, but another big reason is the fact that ..
Yankee SUBS have been far from SUB-PAR.
As always,
GO NYY !!