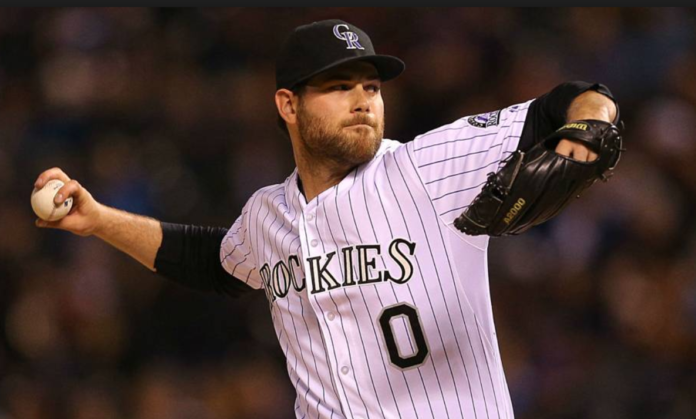 Free Agent Adam Ottavino signed a 3 year / $27M deal with the NY Yankees. He joins an all-time dominant bullpen that includes .. Aroldis Chapman, Dellin Betances, Zach Britton, Chad Green, Jonathan Holder.
The bullpen might even include Jonathan (Lasagna) Loaisiga. Well, let me be the first to give Adam Ottavino the nickname " 'VINO" to go with Lasagna. As the name would link the two, Ottavino has a different link with another bullpen arm. Ottavino and Betances are natives of NYC. Both went to High School in Brooklyn, and even played for the same summer league program. Another link would be that Ottavino is now part of one of the hardest-throwing bullpens in the history of baseball.
Yet another link related to Adam Ottavino? Well, how about the fact that the last 3 acquisitions by the Yankees, Troy Tulowitzki, DJ LeMahieu , and now Ottavino, all played for the Colorado Rockies. Could Nolan Aronado (FA next year) be on the Yankees radar screen? That's a stretch, but ya never know. Like making a fine wine … we will just have to wait.
Here is the "pressing" question .. will 2019 be a vintage year? Have the Yankees done enough this off-season to narrow the 8-game gap between them and the Red Sox? There is no question that the Yankees have the better bullpen .. but they had the better bullpen last year. Boston had the better starting rotation last year headed by Sale, Price, Porcello, and the deadline addition of Eovaldi (re-signed). The Yankees brought back Happ and traded for Paxton (traded Sheffield), but is their rotation better than Boston? I would have said yes if the Yankees had gone the extra-mile and signed FA Patrick Corbin instead of re-signing FA CC Sabathia. Here's what the Red Sox manager had to say on the subject .. Alex Cora: "People get caught up obviously in what New York is doing. We knew that they were going to make moves. They have a great bullpen, obviously. But we have a great rotation. It balances out."
Cora is right. But there is another advantage that the Sox had last year. Thanks to Cora they played with a mental toughness, and in general, a higher baseball IQ, more fundamentally sound, hitting for power AND average, focusing on putting bat-on-ball, and reducing how often they struck-out, making moves to improve their defense (releasing Hanley Ramirez), always looking for an edge (stealing signs and figuring out how Yankee ace Luis Severino was tipping his pitches). It proved to be the difference between the two teams last year in my opinion. Not everything can be quantified by an analytics department, and that's not just ….
Sour Grapes.