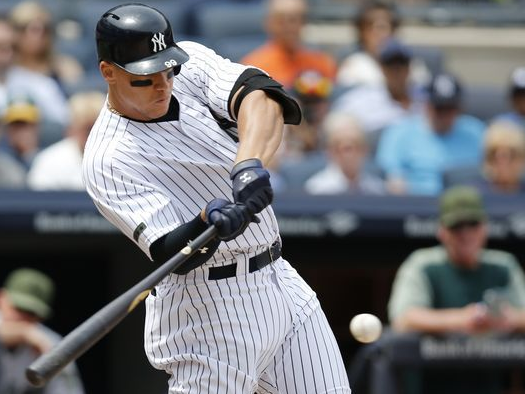 No one else has noticed the significance of the home run that Aaron Judge hit last night versus Tampa Bay's Austin Pruitt.
Judge is hitting .500 with a HR since chipping a tooth … pic.twitter.com/me3yiEMtBi

— New York Yankees (@Yankees) July 29, 2017
I formulated my theory back in April as to what changes Aaron Judge made in his hitting approach from last season. Below are my thoughts from April and then followed up in June:
Therefore, home run number 33 was different and significant. It was the first FASTBALL pulled to left field for a Home Run all season. By my calculations 14 home run pitches were off speed velocity, 19 were fastballs. The spray chart for fastball homers would look like .. 15 hit to center field or the opposite field. 3 were hit to left center and now ONE was hit to left field. It will be interesting to see if this becomes a trend or an isolated occurrence. The approach up until now has enabled Judge to be tied in the majors for Home Runs but also has generated a very respectable .308 batting average. Baseball is a game of adjustments, it will be fascinating to see not only the stats that Aaron Judge puts up in the final third of the season, but the approach that he takes.
To be clear Aaron Judge has pulled Home Runs this season, in fact he's done it 8 times, including the recent moon shot in Seattle that broke stat cast and nearly left Safeco Field. That pitch was a 77 MPH off speed pitch, not a fast ball, watch:
The home run that broke Statcast. https://t.co/3elSKUWumr pic.twitter.com/4mpuxYQeNX

— New York Yankees (@Yankees) July 22, 2017
My opinion is that Aaron Judge has proven to be extremely disciplined and cerebral in his approach and I believe he will not deviate far from what brought him to this point. He has temporarily adjusted to what he thinks the league is trying do.
If you want to see all 33 of Aaron Judge's Home Runs, News Day does a nice job of organizing them. You can see them here.
Judge for yourself.
@mikepintonyy