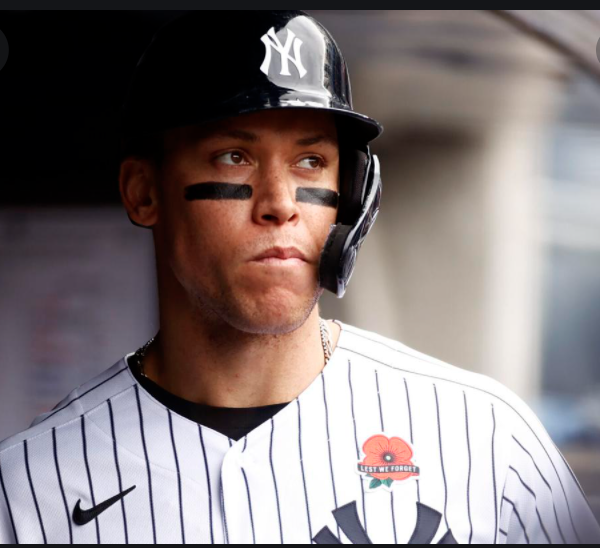 Memorial Day represented the 1/3 mark of the 2021 season for the NY Yankees.
Most importantly Memorial Day gives us an opportunity to remember and honor the brave members of our military who fought and died for our country and our freedoms. MLB added a poppy to all uniforms, a symbol that has been used since the 1920's to honor those who died in war, with the phrase "Lest We Forget"
It has always been said that you shouldn't waste your time looking at the standings early in the season but once you get to Memorial Day you can start taking notice because it's no longer a small sample size.
The Yankees have played 54 games, exactly 1/3 of the season. So let's take a look at where they stack-up in the standings.
29-25 Record
Not great. Not up to expectations, but not a disaster. 4 games over.500 puts them in 3rd place, 5 games in the loss column behind the Rays and Red Sox.
Let's start with some good news .. the starters. Starting pitching has been spectacular. Gerrit Cole has dominated with a 1.78 ERA , 6-2 Record, 0.83 WHIP, 12.4 Ks/9 inn. Montgomery & German have been solid middle of the rotation contributors along with Taillon at times. Corey Kluber turned back the clock to his Cy Young past, throwing six brilliant  games in a row culminating with the first Yankee No-hitter since 1999.
The Bullpen has been Pen-sational. Loaisiga, Green,  Luetge, Cessa and Peralta have been extremely solid, and will be that much better when Britton & possible O'Day get back. Closer Aroldis Chapman has been superb by dialing up the triple-digit velocity again while adding a split finger change-up, striking out 17.1 batters every 9 innings, along with a 0.45 ERA , 0.7 WHIP, 4-0 Record and 11 Saves.
The Yankee staff as a whole have allowed 194 Runs. In the A.L. only the White Sox have allowed less runs. That is terrific.
Now for some not-so-good stats ..
The Bombers have scored 202 Runs. In the A.L. only the Tigers (who just swept us) have scored less runs. Ouch !
.230 Batting Average ranks them 11th in A.L. and 11th in K's , yet have not hit for power either.
Judge leads the team in every offensive category, but productivity drops off quickly after him. In fact there are SEVEN players batting below the Mendoza line (.200)
Through 54 games the Yanks ..
Have scored 2 Runs or fewer in 9 of last 12 games ( first time since Aug. 1971 .. I was around for those Horace Clarke Yankees and you don't want to be compared to that team)
3 Runs or fewer in 30 Games ( 2nd in MLB only to the Pirates)
26 Outs on the Bases (Most in MLB)
52 GIDP (Most in MLB)
Can't they hit & run or steal a base to avoid the DP you say. Where do they rank in the AL in Steals you ask? Don't ask … Dead Last in AL
3.7 Runs / Game (Tied for 26th in MLB w Baltimore )
Fielding hasn't been great . 31 team Errors . Only 5 AL teams have more. Gleyber Torres leads the team with 8 Es.
The Yanks are on a 4 game losing streak while the 1st Place Rays have won 16 of their last 17 games including the first game of this important 4 game series vs. Yanks on Memorial Day.
Unfortunately there are some negative themes that continue to plague the Yankees year after year imo. The analytics department continues to believe that Batting Average doesn't matter, Ks don't matter, situational hitting doesn't either. HRs are all that matter. Time is proving them wrong. Another repeating negative theme .. INJURIES.
Hicks is done for the year (wrist). Voit (oblique) and Stanton (quad) can't stay on the field. Too much time in the weight room imo (that ties into the obsession with hitting HRs and exit V-lo).
The injury that really felt like a gut punch (even though I expected it) was Kluber pitching a No-hitter and then leaving the next game with pain in his surgically repaired right shoulder. He will miss at least 2 months. The Yanks rolled the dice on Kluber staying healthy after pitching just 1 inning in the prior 2 years. I am not optimistic about his return.
One THIRD of the season is in the books and the Yanks have a
LONG way to go to be an elite team.