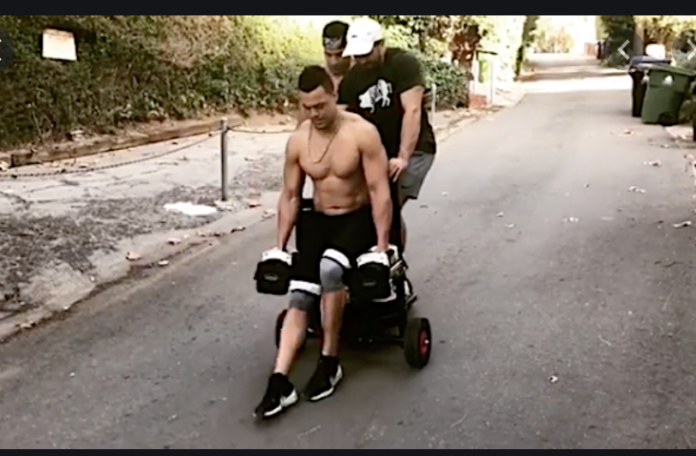 Do the Yankee players train correctly ?
Both Giancarlo Stanton and Aaron Judge are on the Injured List (IL) with strained muscles. Giancarlo went on the IL this year on August 8th, after playing only 14 games, (all as the DH btw) with a hamstring injury. Stanton played in only 18 regular-season games  last year, hindered by a left biceps strain, left shoulder strain, left calf strain, a strain of his right posterior cruciate ligament and a strain of his right quadriceps.
Those assorted muscle strains have reminded me of a picture / video Giancarlo posted on his social media accounts all the way back in January 2018 before he played one game for the Yankees. It always stuck in my mind as being potentially risky. I just went back and found it. I posted a picture to this column of Stanton overdoing a leg workout in his driveway. It struck me as overdoing a training exercise targeting the hips, quads, hamstrings and calves.
Here's how stack.com described it ..
This Drill From Giancarlo Stanton Might Be The Most Brutal Lower-Body Exercise We've Ever Seen
That hill is insanely steep, and Stanton is moving a ton of weight against gravity. He has a large dumbbell in both hands and I believe there are weight plates inside that cart. On top of that cart is New York Mets pitcher A.J. Ramos, who weighs roughly 200 pounds, and elite strength coach Ben Bruno, who weighs roughly 180 pounds. So you're probably looking at a minimum of 500 pounds. Pushing that load up a hill from a backpedal position takes some serious horsepower and an absurd amount of quad strength. "Work until you've reached your limit. Then override that & set a new one," Stanton writes in the caption.
That last quote was from Giancarlo himself, saying to push yourself to the limit and then beyond, which is admirable in a sense, but to me, the workout is more suited for an MMA fighter or professional bodybuilder than a baseball player. Those that follow me on twitter know how frustrated I was to see Giancarlo clog up the DH position exclusively during Summer Camp and then into the regular season . Never once did Stanton play the outfield. This after a 4 month layoff due to the league wide covid shutdown.
Now on August 11, Aaron Judge goes on the IL after oddly being pulled out of the lineup in the previous game in the 6th inning. At that point Boone said Judge was healthy, but then the next day  we hear the Yankee manager say that his star Right-fielder has "Lower Body Tightness"
"All over the lower body is where he's kind of dealing with" Boone said.
"It's the hips, down into the hamstring and calves. I think it's a result of the four-game pounding in three days in Tampa.''
Hmmmmmm .. hips, hamstrings & calves ?  Maybe Aaron Boone and the Yankees new and much ballyhooed strength and conditioning coaching department lead by Brett McCabe and Eric Cressey should check up on what their players are doing in the gym (AND DRIVEWAY). Another perfect example of that .. Aroldis Chapman.
It reminded me of a column I wrote back in February called "WEIGHT A MINUTE". The point I have been making for a number of years is that too many Yankee players are training in the gym with too much weight. In addition to too much weight, many of them are doing exercises that are unorthodox, to say the least. In my column back in January, I posted pictures of exercises that the Yankees players and the organization itself were promoting, that I found to be counter-productive, and in some cases freakish/bizarre. For example, Luke Voit doing one-hand bench pressing. Then there was Gleyber Torres doing one-hand incline dumbbell. I have worked out in gyms my whole life, in fact I was a gym-owner for much of the decade of the 1980's and I can tell you that those moves are more "freak-show" than functional. Worse than that they would lead to mis-alignment of the spine/back and lead to injury. There is also a picture of Gleyber doing leg press work with 500 lbs. This is what has built Torres' leg muscles, and given his quads that "thick" look. But are thick-thighs what Torres and the Yankees want as he plays shortstop this year? Then there is the picture also in January of this year, of Giancarlo Stanton bench pressing supermodel Adriana Lima. Well .. at least he used two hands. Stanton reported to training camp looking leaner, but as the picture points out, the training exercises are still questionable.
To sum it up : strength training is becoming a … train wreck.
(click link below)