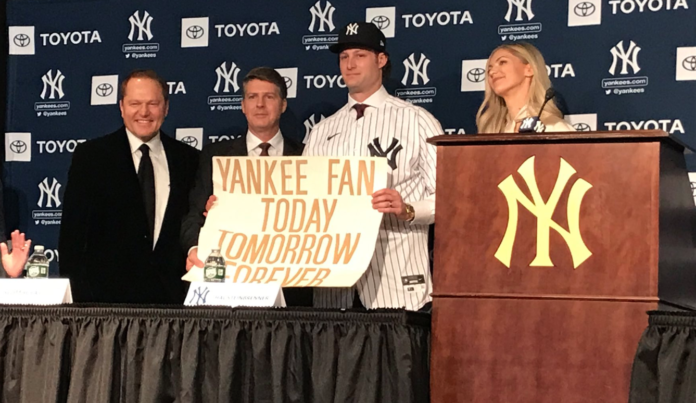 A quick summary of the Yankees off-season :
Gerrit Cole was stealing the show with a sign .. while the Astros were caught stealing signs.
The Yankees signed the best pitcher in baseball while their three biggest rivals lost their managers to the sign-stealing scandal. AJ Hinch is out as the Astro mgr. Alex Cora is no longer the skipper in Boston, and Carlos Beltran was let-go by the cross-town rival Mets before he managed one game.
Yeah – you can say it was a good off-season for the Yankees
Now .. as of 2/12/20  the off-season is over. Pitchers and Catchers have officially reported to the teams spring training complex in Tampa. Music to Yankee fans ears !!
All eyes were on Gerrit Cole starting day-one. The $324M man threw fastballs and change-ups his first Bullpen session. Cole is the Ace. He is the anchor at the top of the rotation. There is no question about that. The expectations for Gerrit are sky-high and with good reason. Last year he was 20-5 with the Astros with an A.L.  best 2.50 ERA and 326 K's.
Cole heads a Yankee rotation that includes Luis Severino, Masahiro Tanaka, and J.A. Happ. There will be a competition for the 5th spot due to the James Paxton injury (out 3-4 month), that will most likely be won by Jordan Montgomery who returned last September from TJ surgery. Others in the mix for the 5th spot are Deivi Garcia, Luis Cessa, Mike King and Jonathan Loaisiga.
Domingo German, the suspended 27 year-old righty, who went 18-4, with a 4.03 era will be eligible to return on June 5th.
The Yanks have a solid rotation but make no mistake, the addition of Gerrit Cole changes everything! The bar has been lifted, expectations are sky high, and the 6'4″ ace from Newport Beach California who grew up a Yankee fan, has been received with open-arms by Yankee fans.
Day 2 brought live batting practice :
"It was the first time I've gotten a standing 'O' after a live BP and I'm not quite sure I deserved it, but it was a unique day. I think it was good for the whole team, everybody had a nice time out there. We had a lot of guys throwing and a lot of guys getting good work, so it was a positive vibe. Good day, we had a lot of fun." – G.Cole
There are strong positive vibes I take out of that one quote. A sense of humility plus a team-oriented approach using words like :  "we", "everybody" "the whole team" and "a lot of guys".
You get the sense early-on that Gerrit Cole not only wants to be on the same page with his catchers, coaches & manager,  but the entire team. I always use the expression .. communication is key, and this guy definitely gets-it. It also shows he has a part of him that wants to teach / coach and help others. it will be fascinating for me to watch how this dynamic develops.
ALL SIGNS ..
All signs indicate that the Yankees will steam-roll through the regular season. Why? Well, first off they took the best pitcher away from their biggest threat when Cole signed in the Bronx and did not return to the Astros who have been penalized by MLB for their 2017 sign-stealing scheme, and are further embroiled in a war of words with players from teams around the league. This scandal is far from over, and the ripple effect caused Alex Cora to part ways with the Red Sox, the Yankees main divisional challenge, who now seem to be in sell-mode. The Yanks no longer have to face Mookie Betts or David Price who have been traded-off to the LA Dodgers. From an offensive perspective the Yankees feel that they will be at least as potent as last year when they led MLB in runs scored with 943, while setting an all-time MLB record for most injured players going on the I.L. in a single season. Yankee management believes that getting back key offensive contributors who barely played last year, namely Giancarlo Stanton (played 18 games) and Miguel Andujar (played 12 games) should more than compensate for the loss of Didi Gregorius (played 82 games) with a .238 B.A.
Warning SIGNS :
The team that "wins the off-season" doesn't always win the Championship. In fact, many times they don't.
Only a Championship will be acceptable.  Those expectations bring an enormous amount of pressure with them. Don't forget the Yankees are coming off the first decade since the 1910's that they did not appear in the World Series
Yes – Mookie Betts was traded by the Red Sox but to .. the L.A. Dodgers who won 106 games last year and could well be representing the N.L. in the World Series this year.
IMO – the Yankee offense is too Home Run reliant. They need to hit for a higher batting average and cut down on strike-outs if they want to go all the way in the post-season.
Don't overlook fielding. Giancarlo Stanton adds to the home run power but does not add to the overall outfield defense compared to Mike Tauchman. Tough decisions will have to be made if they want to get  both Stanton & Adujar into the lineup at the same time.
The Houston sign-stealing scandal is limited to 2017 FOR NOW, but  if /when 2018 & 2019 become more of an issue it could become a distraction for Gerrit Cole who was on the Astros in '18 & '19.  Cole has gone on record as saying he was unaware of any cheating in 2018 or 2019 but .. I have strong concerns.