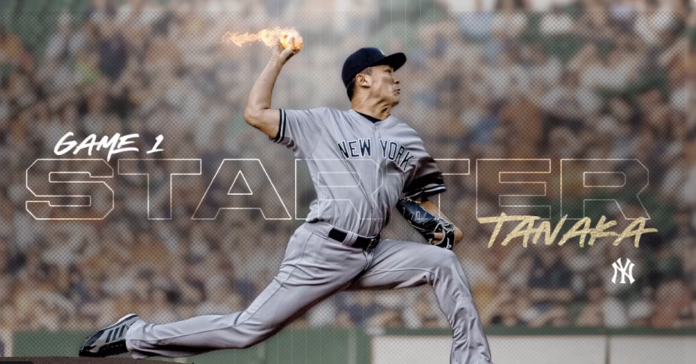 The Houston Astros and NY Yankees  have been on a collision-course for months now. Many have felt all along that these two juggernauts are the two best teams in baseball. It's a dream match-up.
Well..
HOU asked for it … HOU got it.
The 107 Win Astros vs. The 103 Win NY Yankees
The Rosters have not been finalized but my guess is that both Aaron Hicks and CC Sabathia will be added.
When it comes to Hicks, I would gladly welcome him back, but it shouldn't mean that Gio Urshela is relegated to the bench. Some in the media have suggested .. Hicks to CF, Gardner LF, Stanton DH, DJLM 3B, EE 1B, with Urshela coming off the bench as a late-inning defensive replacement. I would love to get Stanton out of LF. He is a defensive liability, but not if that means Gio goes to the bench. IMO – Hicks should replace Maybin on the roster, and in his role as the 4th outfielder / defensive replacement for Stanton. What the Yankees gain (if Hick is 100% healthy) is a superior defender who can go to CF and move Gardner to LF. They would also benefit from the fact that he is a switch hitter.
We just saw in the last series how many big defensive plays the Yankees made, and they will be tested more in this series due to the more aggressive style played by the Houston offense. Says here … Leave Gio and his glove at 3B
Houston did not hit as many Home Runs as the Twins 307 (#1 rank) or the Bombers 306 (#2) but they did hit 288 (#3) which to put into perspective, eclipsed last year's short-lived all time record of 267 set by the Yankees.
To understand just how formidable Houston's lineup is, consider these 2019 Regular Season MLB Batting stats which are ranked among 30 teams :
Batting Average : Houston (#1)  .274
On Base Percentage : Houston (#1) .352
Slugging : Houston (#1) .495
OPS : Houston (#1) .848
Least Strike-outs : Houston (#1) 1166
Also throw into the "mix" that when a pitcher mixes in off-speed pitches, they are ranked #1 vs. "Non-Fastballs" … .253 BA (#1) , .455 Slugging (#1)
The Yankees finished 17th in Strike-outs w/ 1437 but they showed great improvement over last year and IMO can match-up offensively. Here's why .. Last year the Yanks finished 16th in BA, this year they moved all the way up to 4th !! Which makes me scratch my head when I think that Boone said .. BA is basically irrelevant.
They also ranked 4th in OBP, and .. oh yeah they ranked #1 in Runs scored w/ 943 (Hou ranked #3 w/ 920).
Statistically when it comes to Pitching, the Astros have a significant edge. Houston ranked #3 with a 3.66 ERA compared to the Yankees #14 w/ 4.31 ERA. The Yankees bullpen is better and deeper than Houston's. I don't think there's much argument there. The difference is starting pitching. We all know Cole 2.50 ERA and Verlander 2.58 ERA will probably finish 1-2 in the Cy Young running. Tanaka pitched to a 4.45 ERA and Paxton had a 3.82 ERA. So there is the big edge.
BUT .. sometimes stats don't tell the entire story, and can be at-times .. misleading. Here's why. After the trade deadline at the end of July, Paxton became a much different pitcher. He went 10-0  to finish the season, mainly due to rediscovering his knuckle-curve ball. "Regular-season Tanaka " is one thing but "Play-off Tanaka" lifts his game. He excels on the big stage. His career ( 6 games) postseason ERA is 1.54. And Luis Severino missed almost the entire season but is back and threw 4 scoreless innings vs. the Twins in the ALDS.
I predicted the Yanks would win the ALDS, but felt it was so important for Paxton to pitch well in Game 1. I feel the same way about this series. Game 1 is crucial for the Yankees to win. This time it is Tanaka v Greinke . IMO the Yankees need to win Game 1. If so .. Yankees in 6.
The FORMULA to winning will be the same as I pointed out in the first series :
Starters need to match-up or at least keep the game close. Make it into a game that is decided by the Bullpens. Edge – Yankees
Grind out AB's . "Pass the baton". Don't expand the K zone. All things they accomplished in the first round .. drawing 17 BB and hitting .293 BA / .403 OBP / .525 SLG
Don't mess with the infield defense. Leave Gio at 3B. Defense was a big factor in the Twins series… it will be needed and will be tested even more vs. the Astros.
Don't overlook the small details. Pitchers need to hold baserunners on. For example I can picture Houston stealing at-will on Ottavino if he doesn't pay attention. Base-running will be a factor. Houston takes pride in going 1st to 3rd on balls hit to the outfield. Did you hear that Giancarlo ? Be ready. Also … infielders, be ready to field a bunt or two. etc
As always GO NYY !!