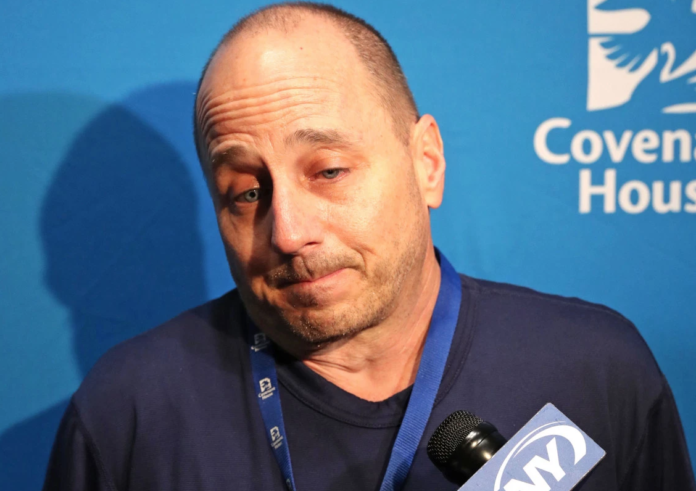 Many NY Yankee fans are …. up in arms because Yankee GM Brian Cashman at the trade deadline did not … add an arm.
The NY Post back-page headline read " THE WALKING DEADLINE" with a photo-shopped zombie-like picture of Brian Cashman. Humorous, but certainly a bit over-the-top, even for a NY tabloid. However the point was well taken. The inactivity at the July 31st deadline was beyond surprising. Everyone knew the Yankees were looking to add a starting pitcher. The 12.00+ ERA by the starters in the week leading up to the deadline was just the icing on top, but Brian Cashman had spoken about the need going back to the slug-fest series in London vs. the Red Sox, and before that in June when he traded for Edwin Encarnacion. Cashman answered questions as to why another home run bat as opposed to a starter ? He said we are actively looking to improve our rotation and it's not "pencils down" until July 31st. Well pencils are down now and the Yankees did not add an arm, neither to the rotation nor the bullpen.
We all heard the rumors about … Madison Bumgarner, Trevor Bauer, Marcus Stroman, Noah Syndegaard, Tanner Roark, Zack Wheeler, Robbie Ray, Mike Minor and others.
John Sterling famously says "You can't predict baseball Suzyn". Well I guess you can't predict baseball on or off the field. If I had told you "Garcia" would be involved in a last-minute Yankee deal, you probably would have thought the Yankees traded Deivi Garcia for a top-starter. Not the Yankees acquiring LHP Alfredo Garcia (who?) from the Rockies for RHP Joe Harvey. If I had told you a week ago that a NY team would trade for Marcus Stroman , who would have thought the NY team would be the Mets ? The Mets (who's manager was on the hot seat) were considered by most "experts" to be sellers at the deadline, yet threw a major curveball into the trade deadline marketplace by unexpectedly trading for Stroman, and now have gone on a 7 game winning streak. Trevor Bauer next went to the Reds, yep the Reds. Which "insider" predicted that? Many of the other rumored starters never were traded at all, and the result was at 4:00 pm on July 31st, Brian Cashman was left holding his .. number 2 pencil.
But wait, the news gets worse because just before 4:00 pm the Houston Astros who are the Yankees biggest A.L. threat, pulled off a last minute stunner with the D'backs by bring back … Zack Greinke !!
Reactions have been varied. Hal Steinbrenner, who I am a big fan of, said "No deal, is better than a bad deal, as far as I'm concerned". This is true, however, the reality is , the Yankees wanted and needed a starter at the deadline, and they came up empty. Brian Cashman himself has been saying for quite a while, going all the way back to when they parted-ways with Joe Girardi, that their focus would be on starting pitching. Well, they thought they were in-on Shohei Ohtani last year, and that didn't pan-out. They inexplicably pivoted, and backed up the Brinks Truck in a trade for Giancarlo Stanton and his 10 year $265M salary (the Marlins are paying 10% on top of that number). Did they really need more HRs & a lot more K's in that line-up? Throw in the fact that he's a defensive liability, and the answer is … NO !! Not when you have been saying "Pitching, Pitching, Pitching" . That was the big mistake !! Would Hal have liked to have that $265M commitment back when they negotiated with LHP Patrick Corbin this off-season. They brought him into Yankee Stadium, photo-shopped a picture of him in pinstripes and put it on the Jumbotron in CF, they took him and his wife, out on the town, and then they let the Nationals outbid them. The Yanks offered 4 years formally, but were willing to go 5 years, and Washington went the extra mile, and the extra year, and signed him to a 6 yr $140M deal, exactly the terms I had predicted on my tv show. I said over & over that the Yankees needed to do more in the off-season because it's hard to make deadline moves for a starter. Corbin is from upstate NY and grew up a huge Yankee and Andy Pettitte fan. The fit seemed perfect.
Mike Francesa who is completely confused, weighed in on twitter with the following analysis :
" Prices for the premium starting pitching so high, Yanks don't have the prospects other than Garcia. Of course, Torres is untouchable. "
Huh ??
My thoughts :
Yankees have plenty of young trade-chips (who make no-money) without having to trade … Gleyber !!
Frazier , Andujar , Florial , Garcia , Abreu , Estrada, Ford , (just to name a few)
Bird (ok – stop laughing)
Cashman deserves ENORMOUS credit for many moves, but he has never, repeat never, pulled off a good deadline deal for a quality starting pitcher in his 20 years as GM. It's just the reality. That's not to say he should be judged by that, but Cash & Co. knowing that, should have done more in free-agency because of that. Speaking of which, how about we only go back to June 7th of this year when Cashman passed on FA Dallas Keuchel who went to the Braves for 1 year $13M. The Yanks could have easily offered an extra $1-2M . I was Ok at the time with the Yankees passing on him but only because I believed they would trade for someone better. That didn't happen.
There has been too many swing-and misses when it comes to top-starters recently. Before Corbin it was Cole. Before Cole it was Verlander. Before Verlander it was Sale. Before Sale it was Scherzer. I can keep going back to 2010 when we missed out on Cliff Lee. but you get the point.
Yes, the Yankees did trade for James Paxton in the off-season and that was a move that most, including myself gave a thumbs-up to. He has been up and down at best, and I warned back when the trade was made that he has been on the IL every year of his career, including this year. It was his left (push-off) knee this time. Is that still an issue? Who knows. He hasn't used it as an excuse, but I did not like his body language or facial expressions when he got shelled in Fenway Park last week by the Red Sox. He threw way too many fastballs at Fenway and needs to mixed in his knuckle curve, which is a big, looping off-speed 82 mph pitch.
Well, now he's pitching again tonight to open another series against the Red Sox. This time at home where he pitched an 8 inning no run gem vs. the Sox back in April.
To sum it up , Paxton has Ace-like stuff. So does Tanaka. So does German. And Happ & CC (when he gets off IL) can help at the back of the rotation , but that is what needs to happen. No margin for error, and this is an absolute long-shot. Yes the Yanks do have starters Loaisiga ( good stuff, but oft-injured shoulder) & Garcia down at Triple-A, and the prayer is that Severino comes back off the IL from his shoulder injury. It's not impossible but again, a long-shot, and … not the way you would draw it up.
Just for the record, I have absolute confidence the Yankees will win their division. But it's all about winning #28 when you're the Yankees. No one cares if you win your division, or if you win 100+ games, or if you set an MLB regular season HR record. When you're the Yankees only one thing matters … winning Championships.
Brian Cashman has used the expression we need " Pitching, Pitching, Pitching" so often it has become a mantra. A mystical formula. Brian Cashman has done a great job over the last three seasons putting together position players that are in my opinion Championship-caliber. Unfortunately the mantra about starting pitching has been ….
more talk than action !!
The Yankees have made it to the World Series in every decade going back to Babe Ruth. If they want to do it this decade, 2019 is their last chance. And consider this – the Red Sox have won 4 WS titles this Century compared to the Yankees 1.
Here's my mantra – Pitching Wins Championships
As always,
GO NYY !!