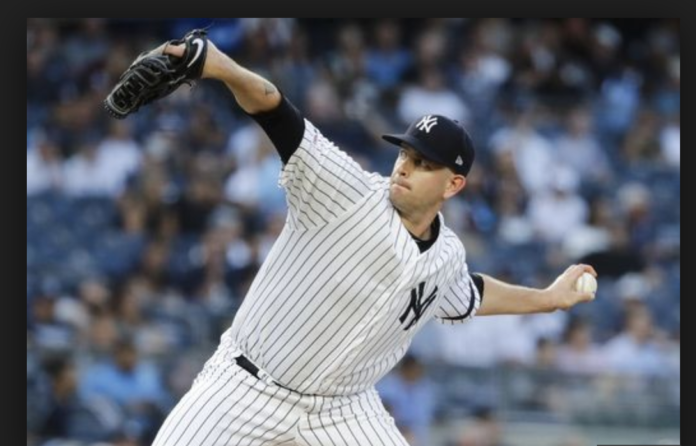 James Paxton used his breaking ball last night (8/2/19) vs. the Red Sox and that was a good thing. The results were just what the doctor ordered, (and the doctor has not been kind to the '19 Yankees) as Paxton bounced back from a disastrous outing in Fenway Park last week to throw a much needed gem, one day after the Bombers did nothing at the July 31st trade deadline to bolster their starting rotation.
A week after allowing 4 home runs ( 3 to Mookie Betts) in a 10-5 loss at Fenway, Paxton got off to a shaky start at the Stadium when JD Martinez turned on an 0-1 cutter and deposited it into the Left-field seats to give the Red Sox a 2-0 lead. 1st inning concerns continued as it was Paxton's 11th home run allowed in the opening frame, but he settled down after that. Paxton struck-out the side in the 2nd, and went on to complete 6 solid inning with a final line : 6.0 INN. , 2H, 2R, 6K, 3BB, 100 pitches. Quite a difference from the 4 inn. 7ER performance in Fenway.
What was the difference ?
He mixed in his Curve ball. It's actually a Knuckle-Curve and it is not only looping but a true off-speed pitch at 82 mph. He threw that pitch 19 times. Gives separation in velocity to his FB & hard cutter.
That's the key. Paxton's Curve gives 15+ mph speed differential to his Fastball. Batters not only have to contend with a north-south big breaking pitch but also the change in velocity has them way out in front as they're waiting on his 97-100 mph heater. In Fenway he was throwing almost all hard stuff .. 4 seam fastballs, cut fastballs, and a hard slider. Everything he threw was hard, and as a result he was hit hard. Pax did have 9 K's in his poor outing in Boston so it shows his velocity is excellent, but when hitters are locked in on high v-lo they will do damage. You need to keep them off balance and changing eye levels.
Gleyber Torres shared the lime-light and the headlines because he provided all the Yankees runs with a huge Grand-slam homer in the bottom of the 1st, but make no mistake, the Big-picture story was Big Maple. Why? Because now that the trade deadline is behind us, the need for an October-Ace will have to come from within. And unless Luis Severino make a miraculous return, that Ace needs to be James Paxton, who has been inconsistent as his 6-6 record shows. But that is hopefully behind him. What matters now is the stretch-run and more importantly the postseason. Hopefully things will be Breaking-good both literally & figuratively going forward.
As always,
GO NYY !!