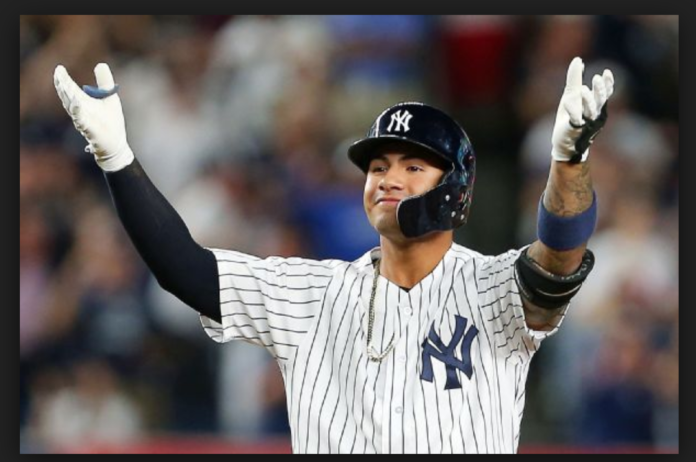 The Yankees are in Seventh Heaven. They have won Seven straight games They are in 1st place in the AL East (48-27) and have opened up a 7 game lead over their arch-rivals, the third place Boston Red Sox and lead the second place Rays by 5 in the loss column. The streak started by winning the last two games of the White Sox series, on the road and then, most impressively, they came home and swept the Rays three straight, and now have taken the first two games from the Western division leading Houston Astros.
But it is not only that they have won 7 straight, but HOW they have won. They are hitting for power (nothing new) , but they are also hitting for average, and hitting with RISP. They are getting starting pitching during this stretch, and as usual, dominant relief out of the pen. Let's not forget the fielding which recently has been superb.
DJ Lemahieu has been the team MVP so far. He leads the Yankees with a .314BA , and leads all of MLB with a ridiculous .470 BA (31-66) , with Runners In Scoring Position!! He also has played a gold-glove 2B and additionally he's been a very solid defender when asked to play 3B or 1B. Gio Urshela has made too many spectacular defensive plays at 3B to remember and is also hitting over .300 with a .307 BA.
Here's a Fun-fact :
The last Yankee to hit .300BA for a season was .. Robinson Cano all the way back in 2013 (not-such-a-fun-fact when you think about it) !!
You have to give kudos to Gary Sanchez, because not only is he tied for the lead in the A.L. with 23 Home Runs, but just as importantly he has shown steady improvement behind the plate defensively compared to last year.
Speaking of being tied for the league lead in Homers, Gary is tied with the Yankees latest trade pick-up, Edwin Encarnacion. Many who follow me on twitter thought I would be against "another feast-or-famine HR hitter" but I don't consider him such, and I am in favor of the deal. I have always looked at Edwin as more than a HR slugger, imo he's a true professional hitter & I'm expecting big things from him in pinstripes.
Someone I have been super-impressed with recently is Gleyber Torres. He encapsulates my comment at the top of the column. It's not just putting up big offensive numbers, but HOW he is going about it. Gleyber is hitting gap-to-gap. He's staying inside-the-baseball. He's cutting down his swing at times, being situational, and making in-game adjustments. To go along with that he has made a number of sparkling defensive plays in the field. In short Gleyber Torres during this 7 game stretch has reminded me of Gleyber of April & May last year when he exploded onto the scene hitting for power, while maintaining a .325BA along with GG defense at 2B.
Add in the fact that the starting pitching has been very solid during this streak (I still have strong concerns) , the pen has been dominant and the Yankees are finally getting healthy. It is an enormous lift to get Aaron Judge back.
The last 7 games have been downright … Heavenly.
Let's hope the winning APPROACH continues.
As always,
GO NYY !!