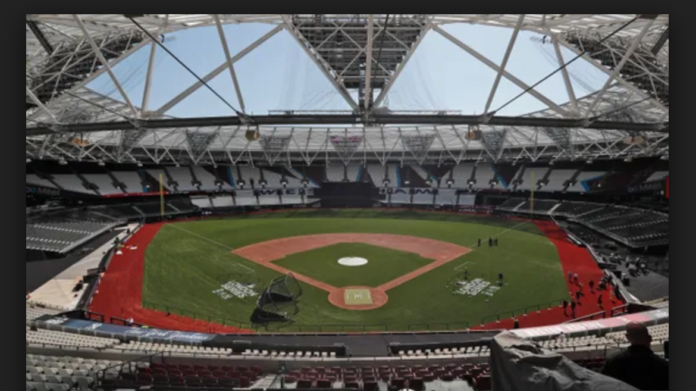 London Calling – The Yankees and Red Sox are playing the first-ever MLB games in Europe. Baseball's biggest rivalry takes its show-on-the-road to London Stadium where the two teams square off for a two-game series Saturday 6/29 and Sunday 6/30.
Home Runs are being hit at a record pace this season and the dimensions of London Stadium will have the Yankee & Red Sox sluggers salivating more than when they play at Camden Yards. Down the lines are 330 feet. Center-field has a 16 foot high wall but is .. only 385 feet from home plate!! There is lots-and-lots of foul territory, which is an edge to the defense, but all-in-all, London Stadium might make Coors Field seem like a pitcher-friendly ballpark.
The 1st place Yankees travel to the UK holding a commanding lead in the A.L. East. Their 52-28 (.650%) record has them 10-up in the loss-column on the 3rd-place Sox, and 7 ahead in the loss-column over 2nd place Tampa Bay.
The Yankees just finished-up an outstanding 10 game home-stand where they went 9-1, sweeping TB 3-straight, taking 3 of 4 from Houston & sweeping 3 in a row from Toronto. It was impressive indeed to take 6 of 7 from two top pitching staffs like the Astros and the Rays, and although the Blue Jays lack pitching they have an up-and-coming offense. Also super impressive was "getaway day" . The Yanks had their bags packed and ready to board a plane and travel "across the pond" after the game vs. Toronto. They fell behind 5-0, and could have easily mailed-it-in. They could have rationalized by saying .. hey 8-2 is a great home-stand .. but they battled back , refused to lose, winning the final game 8-7 in walk-off fashion. That gave them 9 out of 10 at home and made for a very pleasant – albeit long – flight, and a well earned two days off (Thursday & Friday) before the weekend series. The only down-side to that last game was the fact that James Paxton was the starter who put the Yanks in that 5-0 hole, before the offense & bullpen bailed him out. It is fair to say that Paxton has been up-and-down in his starts. In June he pitched well v the Astros & W/Sox, but in 5 total June starts he has a 7.15 ERA. And therein lies a problem I have been warning about since spring training .. Yankee Starting-pitching concerns! The Bomber Offense & Pen are overshadowing this inconsistency / weakness. The July 31st trade-deadline could well determine this year's World Series winner.
For now the Yanks will play in a different series .. LONDON SERIES. In a land dominated by soccer .. it will be a memorable and historic weekend of baseball in England. I'm certain that the Yankees /Red Sox / MLB will put on a "JOLLY GOOD SHOW".
LONDON "CALLING" . But then it is back to the states – back to business -back to a subway series – and most importantly … back to the pursuit of a different calling and a different ring … WORLD SERIES RING #28
As always,
GO NYY !!