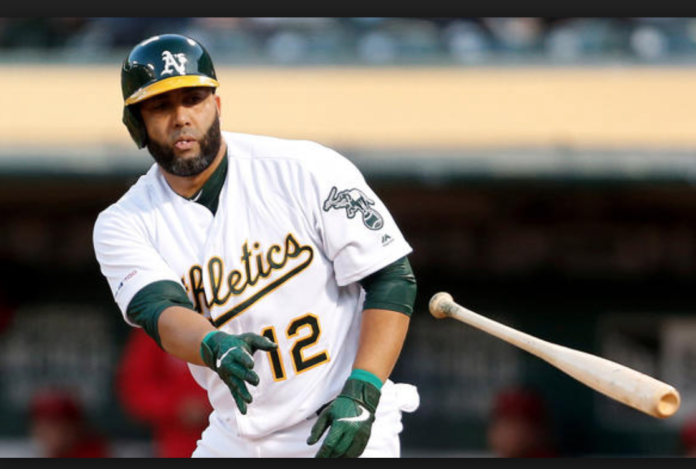 The Yankees acquired 1B /DH Kendrys Morales from The Oakland A's for a Player-to-be-named-later, or cash considerations. Morales on the season was hitting .204 BA , 1 HR, 7 RBI, before being DFA'd by the A's. Lifetime, the 35 year old Switch-hitter has a .267 BA with 212 HRs, 735 RBIs in 1,344 career games.
A surprise move. Let's take a look at some possible reasons for the acquisition : For one .. the Yankees advanced analytics tells them that Morales has a much higher xSLG than actual SLG (.452 vs. .259) based on exit v-lo / launch angle. Basically .. he was hitting the ball hard and into bad-luck which should correct itself, knowing he has hit at least 20 HRs, each of the last 4 seasons (2015-2018)
Ok .. but why did the Yankees feel they needed to make this move ?
Here's 4 possible reasons :
Miguel Andujar might need season ending surgery to repair a tear in the labrum in his right shoulder ( on the IL for the second time). Miggy was being used as the DH, while Giancarlo Stanton is still on the IL. Morales could be used as the DH in the short-term.
Speaking of Stanton, we hear again that his mystery shoulder problem is still an issue. Aaron Boone said he – " doesn't have a perfect shoulder, by any means." Huh ..what the hell does that mean ?? Could the Yankees be worried that for this reason, Stanton could be out for an extended time, and Morales would be used as the DH for the entire season ?
Are the Yankees giving up on Greg Bird? You couldn't blame them .. he just can't stay healthy & on the field. Morales would be a platoon option, lefty-bat to play 1B, (he's a switch-hitter)
Are the Yankees concerned that Luke Voit has possibly regressed? He is 3-35 ( .086 BA) over the last 15 days. Again Morales could supply insurance at 1B.
?? All of the above? None of the above ?? Whatever the concern was that made the move necessary, the Yankees are paying league minimum salary for Morales and therefore there is only upside potential .. MORorLES