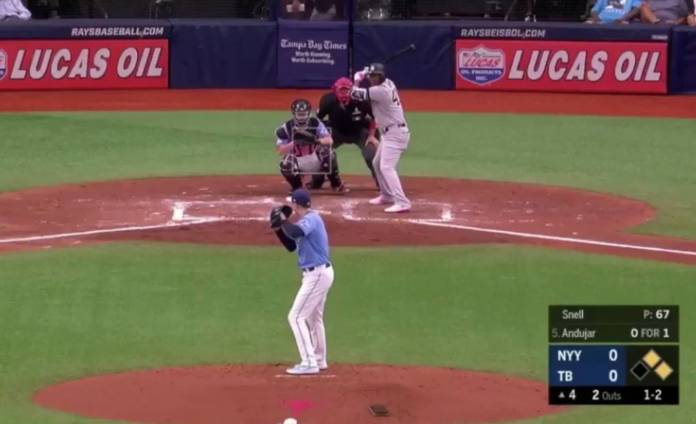 Here is what I tweeted at 2:43 pm – May 13,2019
Snell's curve is definitely nasty. What I also find interesting, from a #Yankees perspective is .. Andujar's top hand comes off the bat,& right arm looks awkward, even considering that he was fooled on the pitch. They say Miggy's labrum tear in right shoulder is healed. #HopeSo
Mike Pinto added,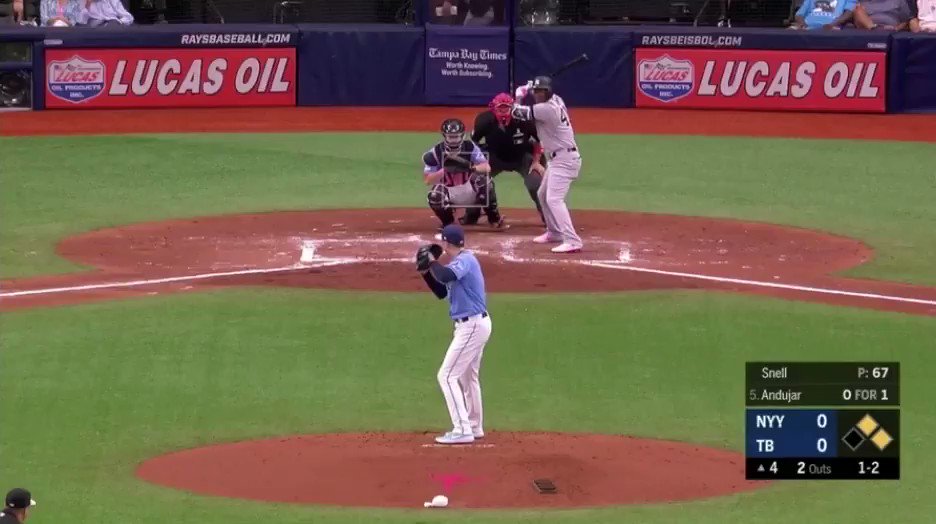 0:03Pitcher List @PitcherListFor most of Sunday's start, Blake Snell was at his very best. Nasty curve to get out of a jam. 2:43 PM – 13 May 2019
Later Aaron Boone was quoted as saying this…
Boone said they will look at the shoulder again, including new tests/imaging. "We've got to get a better handle on this."5:15 PM – 13 May 2019
Then at 6:31 PM the Yankees made this unexpected announcement :
Prior to tonight's game, the Yankees placed INF Miguel Andújar on the 10-day IL with a right labrum tear and recalled LHP Nestor Cortes Jr. from @swbrailriders.6:31 PM – 13 May 2019
So …… there you have it. The GIF that I commented on twitter was created to point the nastiness of Blake Snell's curve ball, but I saw something completely different. I noticed how Miguel Andujar's swing attempt broke-down because of his right arm . As I mentioned real-time, I realize he was fooled by the pitch but none the less, it screamed out to me there is still a shoulder issue Miggy is dealing with when he swings the bat. Now think back to Andujar's first game back off the IL on May 4th at the Stadium vs. the Twins. He made 2 errors in the field, and in my opinion showed that his throwing arm was clearly not as strong as before the injury. But when asked about it in the postgame, manager Aaron Boone said no his arm is fine. Miggy himself said "I felt fine out there".
I give credit to the player for wanting to gut-it-out and play through an injury, but Yankees management and the team doctors & trainers have to be smarter than that. They put a player out on the field who in retrospect was without-question.. not ready.
There was absolutely no reason to rush Miguel Andujar back. His replacement Gio Urshela was not only just filling-in, he's playing on an MVP level. Andujar is only 24 years old. His future is incredibly bright !! Why risk it all ? Plenty of candidates to point to when it comes to .. shouldering the blame.