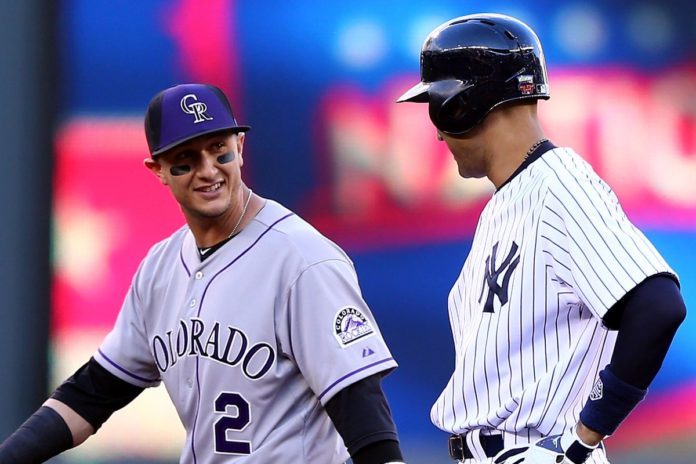 Troy Tulowitzki has finalized a one year contract with the NY Yankees for the major league minimum of $550,000. Troy is owed $20M by the Toronto Blue Jays for 2019, $14M for 2020 , and Toronto has a team buy-out option in 2021 for $4M. Don't get too high on the signing, as Troy missed all of the 2018 season due to surgery to remove bone spurs in his right & left heels and played only 66 games in 2017. Keep in mind that by cutting Tulowitzki, the Blue Jays are on the hook for nearly all of the remaining $38M over the next two years, so it is fair to assume that Toronto thinks that Tulo's body has broken down and can't remain healthy. The Yankees were impressed enough by a Tulowitzki open workout in December at Long Beach State to feel otherwise. "He really looked athletic,'' GM Brian Cashhman said of Tulowitzki (Yankee scout JT Stotts attended the workout) "We feel there is a lot of potential upside here. In talking to him, I feel like he has a chip on his shoulder,'' added Cashman . "He wants to prove that he can reestablish himself. He's looking forward to showing everybody what he is capable of doing. … He's just looking for that opportunity and we are here to provide it.''
Again, the Yankees only have to pay league minimum for 2019 and with that, have a low-cost option at SS to fill-in while Didi Gregorius recovers from TJ Surgery.
Here's another reason not to get too low. Tulowitzki grew up watching studying and idolizing Derek Jeter. The 34 year old wore #2 with the Rockies, and even attended a Yankee game at the Stadium in Jeter's last year (2014), fueling speculation that he was hoping the Rockies would trade him to the Yanks as opposed eventually being traded to the Blu Jays.
Well, it's 5 years later, but the oft-injured SS who hasn't played a game since July 2017 has a chance to finally play SS for the NY Yankees .. at least while Didi Gregorius recovers from TJ Surgery. It's a long-shot, that will start with staying healthy through Spring Training in Tampa. Tulowitzki knows that extreme scrutiny also comes from playing in NY, and had at least 10 other teams interested and on-hand for his Dec. 18th workout. But at least for now Troy can dream to fulfill his dream .. "2" play for the NY Yankees (wearing a different number of course).