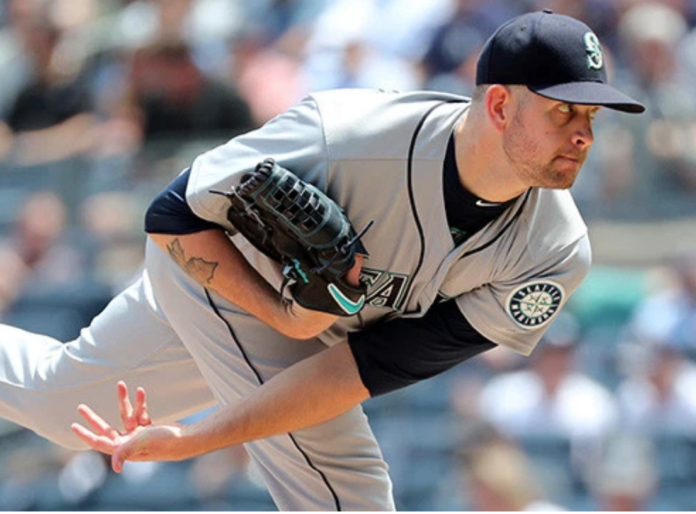 The Yankees made their first big move of the off-season. GM Brian Cashman traded their top prospect LHP Justus Sheffield, along with RHP Erik Swanson, and OF Dom Thompson-Williams in exchange for Seattle's star LHP James Paxton. The 30 year lefty old born in Delta BC, Canada is nicknamed the Big Maple. When healthy Paxton is among the leagues most dominant starting pitchers. For his career, the 6'4″ south-paw has a 41-26 record with a 3.42 earned run average. In 2018, he was 11-6 with a 3.76 ERA,  struck out a career high 208 batters last season and also tossed a no-hitter against the Toronto Blue Jays. But, the concern is that Paxton has been on the DL with a strained pec muscle, a strained finger tendon, forearm tightness (!), a lat strain, shoulder inflammation (!), and a torn fingernail. In 2018 he was on he DL twice, yet it was the first time in his five year career he threw as many as 160 innings.
Along with Sheffield the Yankees #1 prospect, they also parted with Swanson, 25 years old, was 8-2, with a 2.62 ERA in Class AA & AAA, along with outfielder Thompson-Williams, 23 yrs old hit 22 Homers in Class A. You have to give to get, and the Yankees are getting an ace lefty who had a career best strike-out rate of 32.2% in 2018 (5th highest in MLB). No starter in Yankee history had a K rate of at least 30% (min. 150 innings).
One of James Paxton's boyhood idols was Andy Pettitte who he says was his favorite baseball player growing up. He got a chance to speak to Andy a few years back .. "He dropped some knowledge on me and gave me some things to think about".
After the trade last week, Pettitte contacted Paxton. "He texted me that he was fired up that I was a Yankee" -Paxton said.
If he has the same success in pinstripes as Andy … that would really be DANDY !!