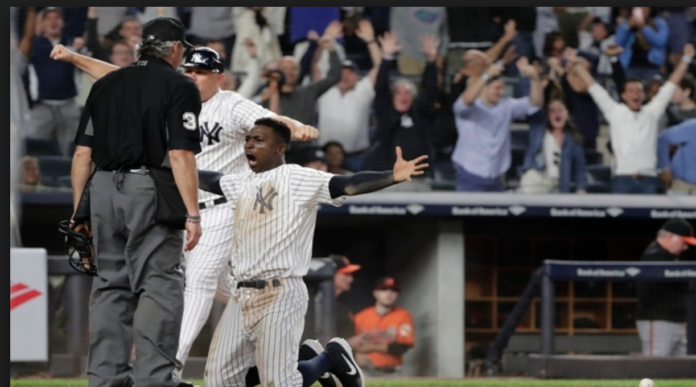 The Yankees dove head-first into the postseason. Didi Gregorius' head first slide into home-plate clinched a postseason berth for the 2018 Yankees Saturday 9/22 vs. the Orioles, but ironically, the 11th inning game winning play might have caused Didi to miss the rest of the season due to injury. An MRI revealed that Gregorius has a small tear in the cartilage in his right wrist. Further irony was that Aaron Hicks who doubled him in, was doubled over in pain moments before when he fouled a ball off his ankle.
You want more irony ??
The postgame champagne celebration might have caused the team to have a collective hangover in the day-game that followed as the Yanks dropped the final home game of the season to the lowly 110-loss O's.
Will Didi return from the wrist injury ??
Will Aaron Hicks' ankle be an issue ??
Will the "hangover loss" prove costly ??
The Yankee lead over the A's for the 1st WC spot is only 1 1/2 games. There are 7 games left in the season for the Yanks, and they are all on the road. 4 games vs. TB at the Trop and 3 vs. Red Sox at Fenway. After the final regular season game in Boston, the Yanks will either host the WC game in NY or have to travel to California.
Where will the game be played ??
Who will pitch the game for the Yankees ??
Sevy ??
Happ ??
Tanaka ??
Lots of …  ????????????????????????????
As alway,
GO NYY !!