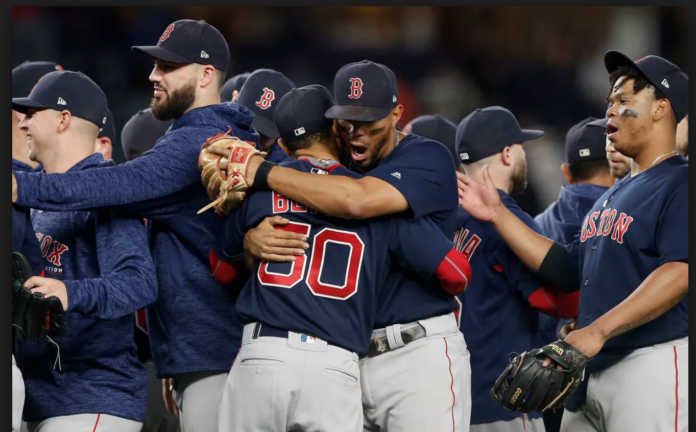 The Yankees lost the final game of a 3 game series (Sept. 18-20) and with that had to watch the Boston Red Sox celebrate clinching the AL East title on the infield grass of Yankee Stadium.
The celebration continued in the clubhouse after the 11-6 victory, as champagne corks popped & players sprayed each other with bubbly and beer. This is the third season in a row that Boston has won the division, something that had never been done in their long history.
The Yankees actually had a 6-4 lead in this game when Giancarlo Stanton hit a dramatic grand slam home run, but Masahiro Tanaka struggled, taking the loss, allowing 8 hits, and 5 runs, in only 4.0 innings of work.
It wasn't all bad news for the Yankees in the series, in fact there were some strong positives :
The Yanks won the series 2 games to 1
JA Happ & Luis Severino pitched gems, combining for 13 inning, allowing 1 earned run.
David Price & Eduardo Rodrigues both were hit hard
Aaron Judge returned to the lineup
At this point the Yankees must have a laser focus on securing the 1st WC, and the right to host the game. They lead the A's by 1 1/2 games, 2 in the loss column. NY wants to avoid at all costs slipping to the 2nd WC. They would have to play their last regular season game in Boston, then travel cross-country to play the WC game in Oakland, and then if they win, would have to travel cross-country again to play a very well rested Boston team.
You have to tip your cap to the 104-49 Red Sox, but again,  the Yanks need to lock-up the 1st WC, and take advantage of playing that do-or-die game at home. After that, Giancarlo Stanton said it best … "They (Boston) can celebrate now. We've got time to celebrate later".