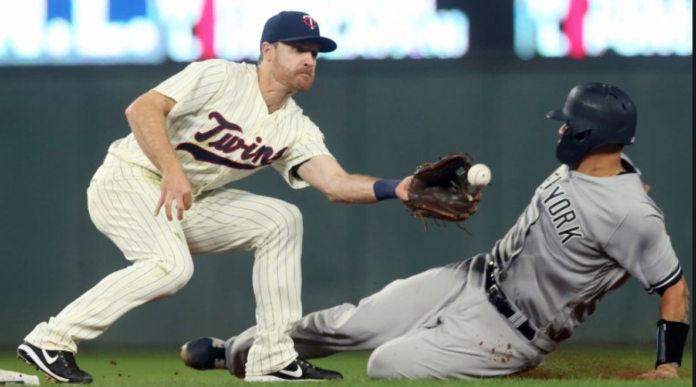 The Yankees lead for the first Wild Card is down to .. 1 game !!
Going into Oakland on Labor Day, the Yanks had a 5 game lead in the loss column. I wrote a column after they lost the rubber game of the A's series with their ace Luis Severino on the mound, and pointed out a missed golden opportunity to take a commanding 6 game lead in the loss column. Since then they took 2 of 3 from the M's and dropped 2 of 3 vs. the Twins.
Once again, the Yankees lost the rubber game with their ace Luis Severino on the mound, this time to the Twins. You can't blame Sevy for this loss. He went 5 2/3 inn. and allowed 1 Run, being pulled in the 6th inning with a pitch count only in the 80's. The final score was 3-1, but the story was that the Yankee offense was no-hit by Jake Odorizzi for 7.1 innings,  until Greg Bird broke it up with an rbi double with one out in the 8th. You know the Yanks are struggling when they drop a series to the Twins & are nearly no-hit by Odorizzi who improved to 6-10 with a 4.41 ERA and 1.32 WHIP.
So the Yankees return home for their final home-stand of the season. 9 games vs. Toronto, Boston & Baltimore, before finishing up on the road with 4 in Tampa & 3 in Boston. 16 games in total.
SWEET 16 ?
The Yankees have gone 22-14 since the debacle in Beantown. That's a .611 winning %, and that's impressive to a degree, but most of those games were vs. teams with sub-.500 records, just playing out the season. In the previous 16 games the Yanks are 7-9. Winning the division is no longer a realistic goal, and if the Yanks fall out of the 1st WC spot, it will be a huge disappointment, and a step back from last year when they hosted the WC game. And .. perish the thought that the Yankees could be overtaken by the Rays for the 2nd WC spot. That is highly unlikely and something that would take a complete collapse over the final 16 games.
ROUND NUMBERS
As of today (9/13) the Red Sox have 100 Wins, the Yankees have 90 Wins & TB  has 80. If the Yanks go 10-6 in their final 16 games, that would give them a nice round 100 wins on the season, and that would be quite an accomplishment .. but in order for them to do so, they will have to play a much better brand of baseball than they have played recently.
As always,
Go NYY !!