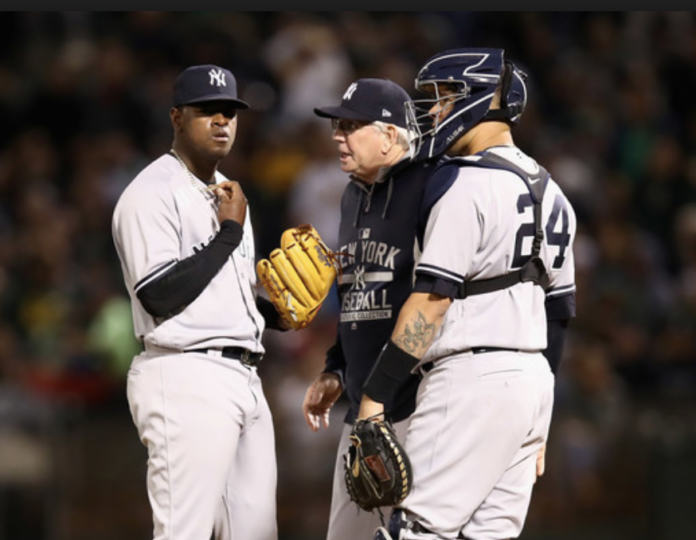 In my last column, I pointed out that the Yankees had won 18 of 27 since the beatdown in Beantown. The Bombers deserve credit for that, especially when you consider the injuries to key players, but I also pointed out that the span of 27 games were against almost all sub .500 teams.The Yankees went into Oakland, having a 5 game lead in the loss column over the A's for the 1st Wild Card. They split the first two games of the series with an opportunity to win the series with their ace on the mound in the rubber game. A win would have the Yanks leaving the Bay area with a 6 game advantage in the loss column, and a strangle-hold on the 1st WC spot & home field for the WC game.
Luis Severino & Gary Sanchez struggled through the 1st inning, in what could only be described as a nightmare, leading to an 8-2 loss. Sevy summed up their miscommunication best in his postgame quote … "It was a mess".
Severino gave up 4 runs in a 29 pitch 1st inning, which included 2 passed balls and 2 wild pitches!! 4 pitches that ended up at the backstop in one inning with your ace on the mound. How is that possible??
When the Yankees lost Game 7 of the 2017 ALCS, falling one game short of a World Series appearance, their focus immediately turned to 2018 and what would be needed to put them over the top. From parting ways with manager Joe Girardi to making a blockbuster trade for NL MVP Giancarlo Stanton, Yankee management was determined to add to the young core that overachieved. Severino, Judge, Sanchez & Bird were home grown, ahead of schedule and making a claim to be the new .. Core 4.
Back in January I posted a blog called "Hard Core". I warned about possible regression in performance by the new fab 4. As I sat there watching the 1st inning meltdown, I couldn't help but think back to my preseason warning.
LOW BATTERY:
To say that Luis Severino & Gary Sanchez were "not on the same page" would be a huge understatement. They were not even in the same play book. Both have struggled mightily. Let's take a look at the battery-mates one at a time.
Luis Severino : Sevy has made 29 starts in 2018. In his first 18 starts he had a 1.98 ERA , BEST in the A.L. In his last 11 games he has a 6.83 ERA, WORST in the A.L.
No one seems to have an answer for the problem. Not Rothschild, not Cash & Co. not YES Network analysts, not Boone, not Severino himself. You hear old excuses and reasons that go back to 2016. Reasons like .. lack of fastball command …& … he's tipping his pitches.
I have probably written more columns about the importance of a consistent 3 pitch-mix for Severino. I suggested before it happened, that Sevy should reach out for fellow DR countryman Pedro Martinez to work with him on his change-up, which he did. The YES Network even used a clip from my tv show on the subject. When Sevy started the season, his arm was fresh and he was blowing batters away with his FB & wipe-out slider. I cringed when I heard Jack Curry, Aaron Boone & Sevy himself say that a third pitch was not necessary if his other two pitches were electric and un-hittable. That is regression in thinking right there. They should have learned from the success of 2017, after the disaster of 2016 when he was 0-8 with a 8.50 ERA as a 2-pitch starter. He had early season success in '18 with the FB & Slider, but when his Slider lost the consistent downward tilt, it was a sign of a bit of a tired arm, and proved to be problematic. It took a stretch of bad outings for him to figure out that he should start throwing his change-up more. It has gone unrecognized but Sevy did throw more c/u 's in his last 3 starts before the blow-up in the Bay area. They Yanks won all of his previous 3 starts. Detroit (6.0 inn, 3 ER) , Baltimore (5.2 inn, 2 ER) Toronto (5.0 inn, 2 ER). In all 3 games, with Romine behind the plate,  he threw more change-ups. In Oakland he regressed to more FB /SL & also melted down when Sanchez could not keep low pitches from going to the backstop.
Gary Sanchez: Gary continues to struggle behind the plate defensively, leading the league with 13 passed balls despite the fact that he has played only 72 games due to spending 2 stints on the DL. As soon as the news broke last year that Cash & Co. decided not to bring back Joe Girardi as manager, even though he had the best record in the MLB over the 10 years as Yankee skipper, I immediately thought that the biggest reason was his relationship (or lack thereof) with Sanchez. Management said that "trust" with the players was a big reason. Well Boone has shown complete trust in Sanchez. He never has a negative word, whether it is his shaky defense, lack of running hard down the first base-line or his .184 BA. and yet Gary's production was better last year under Girardi. Last year I wrote a column called Kraken Down, suggesting it was time to get tough and kraken down on the Kraken. I wish the Yanks would have taken that tactic.
ISN'T IT IRONIC (don't ya think):
It's ironic that with all the moves the Yankees have made in the off season, and at the trading deadline, that the success or failure of the season will come down to core players that the Yanks put so much trust in. What those players needed was strong coaching, focused on improvement and not allowing regression. The issues with Sevy & Gary are pre-existing conditions, that needed to be addressed from spring training and stayed on top-of all season.
That's the core of the issue.
Now at this point of the season we have to hope that Luis & Gary are smart enough to figure things out and self-correct before it is too late.
As always,
Go NYY !!