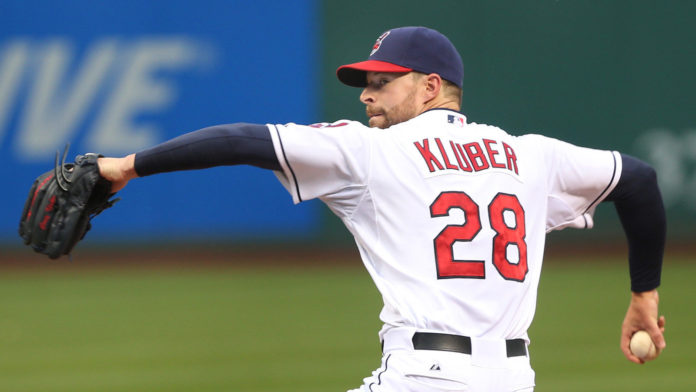 Congratulations to the NY Yankees for making it to the ALDS vs the Cleveland Indians. This is quite an accomplishment. The Yankees are young and ahead of schedule. They have the perfect mix of veteran players and team chemistry. They are a legitimate threat to compete for a Championship at this point. What do they need to do to get to the ALCS ?
GET TO KLUBER:
Pitching wins Championships, and the biggest difference between the two teams is … Corey Kluber, who will likely win the AL Cy Young. Kluber was 18-4 this season and finished 1st in ERA by a wide margin with a 2.25 ERA ( Sale was 2nd w/ 2.90 ERA). Let's put the challenge of getting to Kluber into perspective. We already looked at Corey's impressive season stats. He is slated to pitch games 2 & 5 (if necessary), both at home. What was his home ERA this season you ask? 1.81 ERA  . What was his ERA vs. the Yankees you ask? Kluber was 2-0 with a 1.59 ERA (17 innings 2BB/18K). Sorry you asked? But this is baseball. This is the postseason. Anything can happen including beating Corey Kluber.
GRAY AREA:
There is another way to beat the Indians. It is probably the easier way. Win the games that Corey Kluber doesn't start. In my opinion Cleveland did the Yankees a favor by deciding NOT to throw Kluber in game 1. Sonny Gray (10-12, 3.55 ERA) will be matched up vs. Trevor Bauer (17-9, 4.19 ERA). Bauer has pitched well of late (2.90 ERA in Sept), but Game 1 is close to a must-win for the Yanks. Which brings us to tonight's starter for the Yankees. Sonny Gray has struggled at times since being traded to the Yankees. The line-ups have not been given out yet and there has been no hint of it, but if it were my decision, I would catch Austin Romine & DH Gary Sanchez. I don't think the Yankees will do it, but I wrote 2 columns back in August that explain my reasons "KRAKEN DOWN" & "JUDGE & JURY". I can see Sanchez has improved recently, but I have watched Gray's starts closely & he is the one pitcher I would not have Sanchez catch. Sonny Gray seems to like to bounce a lot of breaking balls & he must feel 100% confident his catcher will block them. It's a "gray" area because they would be compromising hitting a little, but imo – Pitching (& Defense) wins Championships. Simple as that. By the way, on another matter.. those jumping off the Severino bandwagon after one bad start, I would say… relax. In fact that would be my advise to Sevy also.  Relax, don't try to throw the ball through a brick wall. Do what you did most of the season which made you a Cy Young candidate. Mix in your change-up. In this case .. less is more.
"HITTING" THEIR STRIDE:
The Yankee line-up is finally healthy and hitting their stride. It is a deep, circular line-up that can do damage 1 through 9 in the batting order. The Indians also have a potent offense. Both teams have similar stats ..
Yankees .262 BA, .339 On Base % ,  .785 OPS
Indians  .263 BA, .339 On Base % , .778 OPS
Amazingly similar. But 1 big difference ! The Bombers  finished 1st in MLB with 241 Homers, the Indians 15th with 212 Home Runs. That was reflected by Runs Scored. The Yankees finished 2nd with 858 Runs, Cleveland 6th with 818 Runs scored. Advantage:Yankees
WHAT'S THE "DIFFERENCE"
When you look at team ERA .. Indians 3.30 ERA (1st) Yanks 3.72 ERA (5th). Add the Runs scored & compare them to runs allowed & you get the Run "Differential" stat. The Indians had the best Run differential in MLB by a mile with a +254 . The Yankees were 2nd with a +198. Advantage : Indians
BOTTOM LINE:
The Indians finished with 102 wins. The most of any team in the AL. They are a very good team, on a mission to win the WS they let slip through their fingertips last year. It will not be easy for the Yankees to knock off the Tribe in this best of 5 series, but they can do it. The Yankees are young, exciting and they play the game the right way. It has been an absolute pleasure to watch this team. What will I do when the season is over & there is no Yankee baseball ? I don't have a Klu. Let's just keep it going !!
As always,
GO NYY