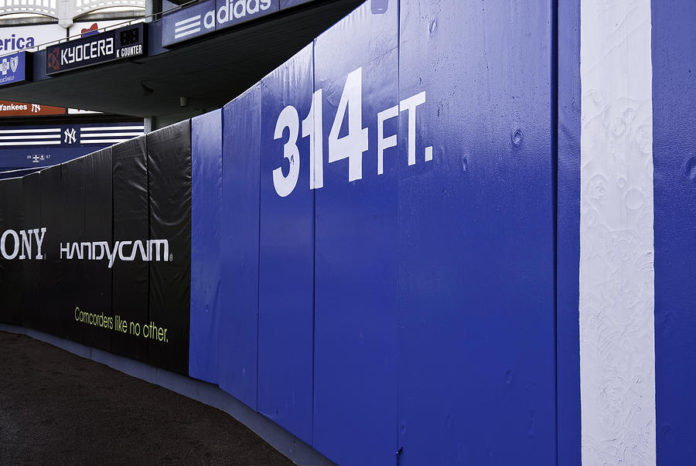 OPPOSITES ATTRACT is a headline I have used on twitter to applaud Opposite field hitting, and there has been no shortage of applause for the Yankees offense this spring. Why does opposite field hitting attract my eye ? It is part of a balanced approach to hitting that has been sorely missing by the Yankees . Simply explained, if the ball is pitched on the outside corner of the plate, the batter should "go with the pitch" and hit to the opposite field. If this approach is not taken, the batter is usually considered to be… dead-pull.
Dead-pull. Sound familiar? It should. For the previous 5+ years the Yankee line-up was loaded with lefty dead-pull hitters that were fixated on targeting the short porch in right field at Yankee Stadium.
At times they hit a lot of home runs. At times they won (regular season) games with the long ball, but the reality is that Yankee management has finally figured out that dead-pull hitting by a lefty laden lineup doesn't work… especially in today's game and especially in the post-season.
Why?
Two main reasons:
EXTREME SHIFT
Too many hits are stolen by the shift, too many points are taken away from a batting average & on-base percentage when the ball is pulled into the teeth of an extreme shift. No team has been victimized by the shift more than the NY Yankees. (I give quantitative proof of this point in a video clip below.)
PLAYOFF BASEBALL
Pitching in the post-season is far better than the regular season. Less mistakes are made, more batter weaknesses are exploited by top staffs & less home runs are surrendered to "One-dimensional" hitters who try to pull everything.
DOING THE "RIGHT" THING
Now, here is some GREAT news. Yankees hitters (especially the RHB) have hit to all fields from the start of spring training. Consider this ..
Over a recent 3 game span, (3/11, 3/12 & 3/14) the Yankees hit 7 home runs.
All 7 homers were hit by Right-Handed batters.
Saturday (3/11): G. Sanchez, M. Holliday & G.Torres
Sunday (3/12): A. Romine & J. Mateo
Monday (3/13) : no game scheduled
Tuesday (3/14): G. Sanchez, G. Torres
7 Yankee Home Runs, all by RIGHTY bats and …
ALL 7 HOME RUNS WERE HIT TO THE OPPOSITE FIELD !!!
( I bet this has NEVER happened before in Yankees history )
This is not .. by accident.
This is not .. by coincidence.
This is ..by DESIGN
This is .. a monumental move in the "RIGHT" direction.
When you looked at starting position-players for the Yankees from 2014-2016 you had only two Right-handed batters!! (Jeter in 2014, Castro in 2016 , none in 2015). Everyone else was a Lefty-hitter or a Switch-hitter with most of his power from the Left side. Whether it was an expensive free agent like Brian McCann or a cheaper move like Steven Drew the mindset was the same.. get a Lefty bat with a "Yankee Stadium Swing" to take advantage of the short porch. Even trades included lesser players with the same thought in mind. Players like Garrett Jones and Dustin Ackley. These were flawed players with defensive liabilities but they both had that "Yankee Stadium Swing". Another example of that kind of player was the signing of Kelly Johnson. A Lefty bat Cashman could sign on the cheap. Stick him at 3rd base, a position he played approx. 5 games in his prior career, and hope at the plate he could pull a few into the short porch. Even when they called a player up from the minors due to injury, they just so happened to be Lefty hitting Slade Heathcott, and Mason Williams.
CHANGE IN PHILOSOPHY AND PROCUREMENT
Now the Yankees have Righty bats coming up from the farm. Sanchez & Judge are exciting prospects. They have as much raw power from the right side as any hitters in the game, but they need refinement. Who did the Yankees get to DH this year? They did not bring back (S) C.Beltran who had a good year for the Yanks in 2016 but chose to go with (RHB) M.Holliday who just happens to like to hit the ball to the opposite field. Why? Because Holliday would be a perfect mentor to Sanchez & Judge. Smart!! Tyler Austin is another exciting prospect who unfortunately broke his foot early on this spring. Austin is a strong RHB who proves my point that something is going on within the organization. Austin CHANGED HIS APPROACH a year ago and started hitting the ball to the opposite field. After his August 2016 call-up he hit 4 Home Runs at Yankee Stadium, ALL WERE HIT TO RIGHT FIELD. Get well soon Tyler. Yankee fans are rooting for you!!
At the trading deadline when Brian Cashman traded off Chapman & Miller, the key prospects he got back were G Torres & C Frazier. Both players are RHB who like to hit the ball to the opposite field. All this is not a coincidence .. this is a huge change in PHILOSOPHY & PROCUREMENT by the NY Yankees !!
What I just pointed out, should have been RECOGNIZED, written about and spoken about in detail by all the Yankee beat reporters on-line and in the papers, not to mention the two biggest voices on the radio for NY Sports Talk (both named Mike).
This clip originally aired November 2013
I have been talking & writing about this EXACT subject for YEARS & am glad to see the Yankees seem to have finally learned from the error of their ways. I have expressed over and over how there is more than one way to take advantage of the short porch at Yankee Stadium, especially now with the proliferation of extreme shifts. I suggested that RHB that like to go "oppo" would be a smart strategy. It has been frustrating for me to watch the use of league-wide shifts victimize the Yankees. Mark Teixeira went from a .292 BA in 2009 to .256 BA in 2010 because of the shift
This clip made January 2017 quantifies and summarizes a number of my points:
The Yankees this spring are hitting for power AND average. Having said that, I must remind everyone that hitting is a series of adjustments. It's a cat & mouse game. If you dive out over the plate too much, pitchers will "straighten you up" (throw up and in) to keep you honest, and you must be able to turn and pull the inside pitch. But after 5+ years and $1 Billion wasted, the Yankees are starting to do the right thing by balancing out their hitting approach, and balancing out the line-up. If Judge is in RF to start the season, you will have a batting order that has :
4 Right-Handed Hitters / Sanchez, Castro, Judge, Holliday
4 Left-Handed Hitters / Bird, Gregorius, Gardner, Ellsbury
1 Switch-Hitter / Headley
We talked about the RHB at length. As far as the LHB …
Gardner & Ellsbury have the speed to avoid being victims of the shift. Didi has made enormous strides. He led the team in B.A. last year. And in my opinion Greg Bird is the BEST PURE HITTER  on the team. He stays inside the baseball and has the ability to drive the ball to all fields. I will be doing some "Bird Watching" to make sure he doesn't develop a bad habit of pulling everything & rolling over outside pitches, like many Lefty bats due to the allure of the short porch.
https://www.youtube.com/watch?v=TWemoPYDM7Q
I would bat (S) C.Headley 9th in the order and hope for the best. His April was horrendous last year, and he must get off to a respectable start or changes will be made. This year there are options.
Most of the columns I write, focus on pitching. Why? Because I believe strongly that.. Pitching Wins Championships! But in addition, the correct hitting approach is needed.
I'm not sure how long it will last, but for now the Yankees have correctly implemented an extreme shift .. in philosophy. A philosophy that lends itself to higher BA & On-Base % in addition to power, much like the 2009 Yankee line-up.
Sooner or later EVERYONE will get around to recognizing it … and talking about it.
As always,
GO NYY !!