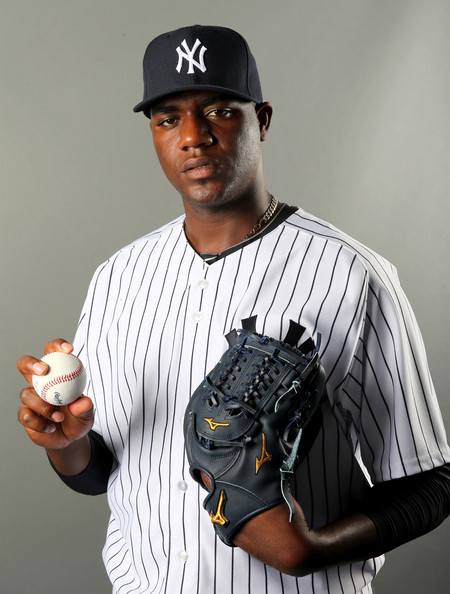 Back in 2012 when the Yankees traded for Michael Pineda, I could hardly wait to see
him pitch in spring training. I was excited to watch the young super-talent, but also
anxious to see him throw with the high 90's velocity that made him a phenom
in the first half of his rookie season.
Reason for my concern …. the 6′ 7″ right hander showed diminished velocity in his final start
of the 2011 season for the Mariners after struggling for the entire second half.
I was concerned Brian Cashman might have traded for damaged goods.
Sure enough Pineda's Fast Ball  was only in the 89 -91 range during Spring 2012.
I HAD .. the "knick" name picked out for him back then on twitter  " #PINSANITY "
BUT HE HAD … a torn labrum in his pitching shoulder,
which led to surgery and caused him to miss the 2012, '13 & much of the '14 season.
Did the G.M. of the Mariners Jack Zduriencik know he was trading damaged goods ?
Who knows.. who cares. What does matter is that shoulder surgery is very tricky.
It's not like Tommy John elbow surgery. If you come back (and stay back) from shoulder surgery,
you really beat the odds.
Well the surgery is behind him and after finishing the 2014 season strong,
Michael Pineda had an excellent 2015 Spring Training.
He was 2-0 with a 1.42 era, but the stats that really
impress & jump off the page …
23 STRIKE OUTS and only  1 WALK  !!
Pineda has been dominant and yet economical at the same time.
His 95 mph FB …looked nearly effortless.
His 85 mph Slider …is his out pitch, nearly un-hittable, and possibly the best in the league.
His 90 mph Change Up … is a key pitch he has not been able to master in the past
but threw with success and confidence this Spring. It give batters a third pitch to have to
look for, at a different speed, and it's movement goes the opposite direction of the FB & Slider,
which move towards his glove side corner of the plate.
All of his pitches have movement and late life in the zone which is also key.
Simply stated … when Michael Pineda is healthy (and right now he is) , Michael Pineda is nearly unhittable
So, in a year that…
* the ace of the staff Masahiro Tanaka will try to pitch with a torn ligament in his elbow
* the Yankees try to avoid missing the playoffs for a 3rd straight year
* the Mets try to take over the town
I figured, why not try it again, and say …
2015 would be the perfect time for :
#PINSANITY  !!
#PINSANITY IN PINSTRIPES as a matter of fact.