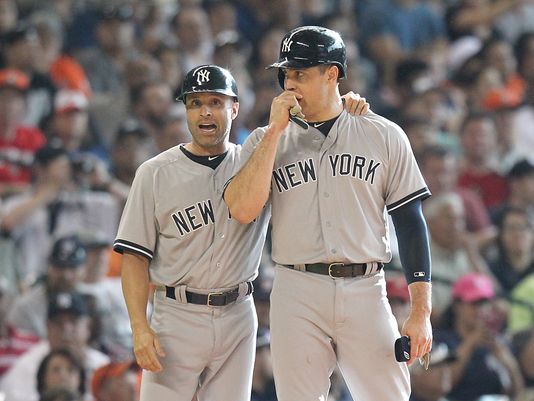 When you analyze last nights Yankees loss there were many
controversial plays and decisions that lead to the crushing
2-1 defeat to Detroit at Comerica Park to start a four game
series.
C.C. Sabathia pitched a gem of a ballgame vs. a stacked
Tigers line-up, and there lies a silver lining to an
excruciating defeat.
Sabathia used his Change-Up brilliantly and kept batters
off balance all night, as he went the distance for a hard luck loss,
which dropped his season record to 0-3.
Another bright spot was the fabulous fielding the
Yankees displayed. The infield turned THREE 5-4-3 Double Plays,
and the Outfield ..not to be outdone.. contributed THREE
outstanding catches. Two by Brett Gardner and one diving
catch in Right Center by Jacoby Ellsbury that outdid them all.
However all the good was overshadowed by two questionable
decisions.
They both involved base hits to Center Field with runners on
2nd Base.
The first happened with two out in the bottom of the 7th.
Jacoby Ellsbury chose not to throw home to try to get the slow footed
Victor Martinez and instead threw to 3rd, cutting down a trail
runner but in the process allowing the go-ahead run to score.
That was a play that I thought Ellsbury would throw home,
but he was playing deep, and I hate to say it but his throwing arm has
not looked strong this year and he felt he couldn't get him.
The other play happened in the next half-inning, and this is the
play that received the most attention, created the most debate,
and in my opinion no one analyzed correctly.
With one out and the Yankees down by a run in the top of the 8th,
DiDi Gregorius lined a single to Center. Rajai Davis, who was
playing shallow, did a good job of charging the ball, and because
of that, Yankees 3rd base coach Joe Estrada gave
Chase Headley a quick red light as Headley was one stride from
third base. The problem was that Davis bobbled the ball, and did not
field it cleanly. Headley at this point was one stride past the bag,
and attempted momentarily to run towards home but, he had broken stride
and it was too late to start for home as Davis retrieved the ball.
After the game Jack Curry wondered if Estrada might have taken a chance and
sent Headley. Curry later on in the post game asked Michael Kay,
Paul O'Neill, and John Flaherty, their opinion, and they all
thought Estrada made the right decision.
When Joe Girardi was asked about the play he said "he (Davis) had the ball
in plenty of time and then he dropped it… and that's not something you
can predict."
This morning the radio sports talk was divided.. some screamed he
should have sent him, others said no, but NONE of the above mentioned
that the key to the play was that first year 3rd base coach Joe Espada
was … OUT OF POSITION.
The reality is, that if Espada had taken a few steps towards home plate
instead of towards the 3rd base bag, he would have given himself a split -second
more to see the play develop. Instead of deciding to stop Headley one stride
before 3rd base (and before ball got to Davis) he could have seen the bobble
and waive Headley towards home without Chase breaking stride, where he would have
scored easily, probably standing up and tying the game.
It's a subtle point, but no one on YES Network or in the media picked it up.
Girardi is right "it's (the bobble) not something you can predict", BUT
if Estrada had come down the line and put himself
in a better position, he would not have had to predict .. or assume.