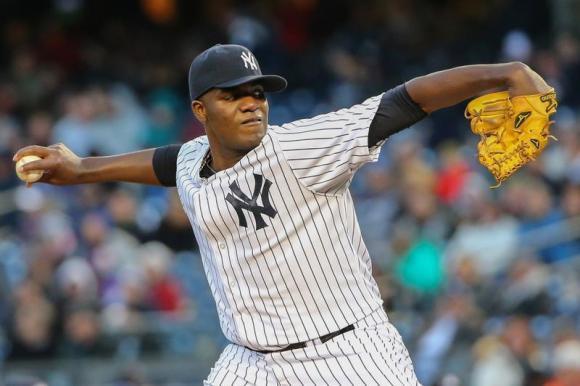 CHANGE WE CAN BELIEVE IN :
(Trust me.. I'm not getting political)
FOR MICHAEL PINEDA …
THE CHANGE UP IS A GAME CHANGER
Michael Pineda's Fastball is hard to square up because of it's velocity and
natural late life/movement. His Slider with it's downward tilt
is nearly un-hittable, but when you are basically a two pitch Starter,
batters can guess, and sit on/look for one pitch.
Pineda has experimented with a Change Up since his rookie
season, but without much success.
He has now shown more confidence in that pitch,and if mastered would
give him 3 very different out-pitches.
Consider his start last night 4/8/15 vs. the Toronto Blue Jays.
On a cold,windy and misty night at the Stadium with temps
around 40 degrees, Michael Pineda showed signs that
he is developing and maturing as a pitcher, and a person.
He gave up 6 hits, 2 runs, in 6 innings earning a no-decision,
and at first glance that might not seem overly impressive,
but when you look closely there were many positives.
For one thing.. the weather was much colder last night, than the night
he decided to put pine tar on his neck in Boston, and yet the
cold did not seem to distract or unnerve him.
Because of the cold his velocity was lower than what he showed
during his Florida Spring Training games , yet he was still able
to Strike Out 6 over 6 innings.
Of the 6 K's ,half were recorded on … Change Ups.
It's a big IF, but in my opinion, IF Michael Pineda's surgically repaired
shoulder holds up, he will put up Cy Young – type  stats
for the N.Y. Yankees this season.
And that would be a game … CHANGER !!