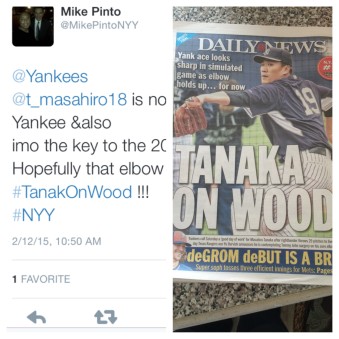 MRI on #Yankees Masahiro Tanaka's "Arm" is vague description Elbow = Bad but Shoulder = Disaster Hopefully it's not too bad #TaNAKonWOOD

— Mike Pinto (@MikePintoNYY) July 9, 2014
Above was a tweet / response I had on July 9th, 2014 when I first heard the news about Tanaka.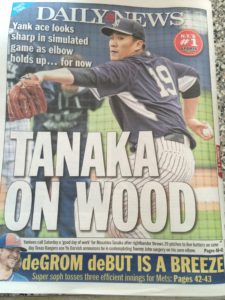 Sunday's Daily News back page picked up on my #TaNAKonWOOD slogan that I used many time last year, and although in one sense I am glad Masahiro Tanaka is pain free throwing simulated games, I still feel 100% certain that the Yankees and Tanaka have chosen the wrong strategy for his future. Masahiro started his MLB career with an incredible 11-1 W/L & 1.99 ERA.Then the pain and elbow discomfort came and his performance/stats suffered until an MRI revealed a small tear in his Ulnar Collateral Ligament in his pitching elbow, causing him to shut things down, and go on the DL for 2 months. Tanaka is only 26 years old and has a Cy Young future ahead of him. If he would have gotten the surgery in July of last year he could have potentially been back after the All Star Break this year. The great Mariano Rivera had a Tommy John type of surgery before he exploded on the scene in 1996. Imagine if he had not gotten the surgery out of the way when he was young.
I don't take any comfort in "partial" tear. Why? Because no pitcher rested &came back from it Wainwright delayed it but ultimately had TJS — Mike Pinto (@MikePintoNYY) July 11, 2014
I understand three top surgeons examined Tanaka's elbow and didn't recommend surgery, but at the same time with all the TJ surgery procedures being performed, who can we point to that has a partial tear of his UCL and is pitching effectively without the surgery ? The one and only name that comes up is Adam Wainwright and he only avoided/delayed the surgery for 2-3 years before ultimately getting the surgery. Matt Harvey across town didn't want the surgery at first, but then had it , and now returned throwing 99 mph in his first spring training start.
Last year Yu Darvish's season ended early with inflammation in his elbow ligament. After a
period of rest & rehab, Darvish passed all tests leading up to spring training, leaving the
Texas Rangers hopeful. An MRI in January was reported clean, and now a few weeks into spring
training, comes a likely season ending setback. Ranger GM Jon Daniels stated that another
rest/rehab would be … "delaying the inevitable". Keep in mind that Darvish has a
strained ligament and doesn't have a tear as Tanaka does.
The 6'2″ 210 lb. Yankee Ace from Itami, Japan will take the ball tomorrow night at Steinbrenner Field vs. the Braves for his first Spring Start of 2015, and going forward every time he takes the mound,
Yankee fans everywhere will hope that Masahiro Tanaka has put the injury behind him,
and he is not just …delaying the inevitable.
TANAK ON WOOD !!